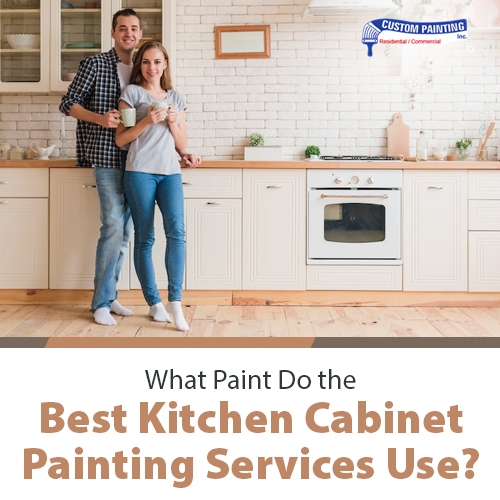 Painting kitchen cabinets requires work on its own. Depending on how many cabinets you have or how badly they need to be updated, giving them a new finish can take a while. For a flawless and durable finish for your kitchen cabinets, it's wise to hire professionals who offer the best kitchen cabinet painting services. They will look at the cabinets and choose the most suitable paints and painting methods.
Assuming that the cabinets are still in fine shape and in good working condition, let's look at some factors that need to be addressed before starting the project.
Oil or latex?
In the past, homeowners preferred oil-based paints over latex paints for kitchen cabinets. However, latex paints have greatly improved recently, leading some professional house painters to give up oil-based paints altogether.
Still, many pros favor oil-based paints as topcoats for kitchen cabinets. They argue that oil paints create a harder and more durable paint film and provide a smoother finish to the surface. In addition, they cure faster than latex paints, which typically take up to three weeks (or even more) to cure completely. Conversely, oil-based paints are more likely to crack or become dry and brittle.
Whether you use oil-based or latex paints, both provide an excellent finish to your kitchen cabinets. If you decide to use latex, choose the one with a 100% acrylic formulation, as it offers better adhesion and greater durability than vinyl acrylic latex paint.
What is the best paint finish for kitchen cabinets?
There are many paint finishes to choose from, so you will want to look at certain factors to help you pick the best finish for your kitchen cabinets.
One of the factors to consider is the level of traffic a room or area receives. For instance, a flat or matte finish is the most suitable for low-traffic rooms and areas, such as the bedroom and the ceiling. 
On the other hand, kitchens and bathrooms are among the areas that receive the highest traffic. They are susceptible to moisture, humidity, soap, and even grease. For your kitchen cabinets, choose a paint finish that makes them look good, is durable, and allows easy cleaning. Thus, selecting a paint finish that protects your kitchen cabinets from these elements mentioned above is crucial. 
Flat or matte paints are not practical for kitchens and bathrooms as they are not durable in high-traffic areas. With flat paint, you risk rubbing through it the next time you scrub the kitchen cabinets clean. Thus, choose a paint finish that provides a higher sheen, greater durability, and better washability – particularly satin, semi-gloss, or glossy.
To brush or to spray?
It's not only the types of paint you should decide on; you also have to consider how you will paint your kitchen cabinets. 
Among the most popular painting methods for kitchen cabinets are brushing and spraying. 
A sprayed-on paint finish provides your kitchen cabinets with the smoothest and spotless finish. Spraying seems to be easy to do, right? Load the sprayer with paint, aim the sprayer at the intended surface, and spray until the surface is completely coated with new paint.
However, spraying paint is more challenging than it looks. It requires a learning curve to do it correctly. One of the usual problems with spraying paint is over-spraying, where airborne paint particles do not land on the targeted surface. Instead, the fine paint mist accidentally lands somewhere else – your lawn, hedges, flower beds, even your face – leading to a paint waste. Overspraying is primarily due to strong winds. 
So, if you intend to paint those detached cabinet doors in your backyard, make sure that the weather is stable enough so that you will be able to control overspray. You'll also have to cover your lawn, flower beds, etc., that could accidentally get sprayed. If you also plan to paint the cabinet interiors, mask off all areas (including countertops, tables, and appliances) to protect them from spray paint.
Spraying in cold temperatures also comes with significant challenges. The paint in the sprayer will thicken and perhaps even become congealed, depending on how cold the weather is. When the paint thickens and solidifies, it will not flow properly out of the sprayer. The result is uneven coverage, and the surface may even end up with blobs of paint.
The best temperature for spray painting should be between 50 degrees and 90 degrees Fahrenheit with humidity below 85%. Anything outside that range can pose a challenge to your painting project.
The other (and more often recommended) option is to use paintbrushes. If you choose this method to paint your kitchen cabinets, be sure to purchase quality brushes. Invest in a 3- to 4-inch-wide square brush for painting flat, and wide surfaces and a 2 1/2- to 3-inch-wide angled brush for painting into corners of doors and molding. If you choose latex paints, use a brush with synthetic bristles; for oil-based paints, use a brush with natural bristles.
Painting kitchen cabinets is a multi-step process that involves other work, such as removing cabinet doors and hardware, cleaning and prepping surfaces, and even sanding in between coats of paint. Professionals offer the best kitchen cabinet painting services because they have sufficient knowledge about the types of paints, tools, and applications, and this very knowledge will be the key to a successful paint job.