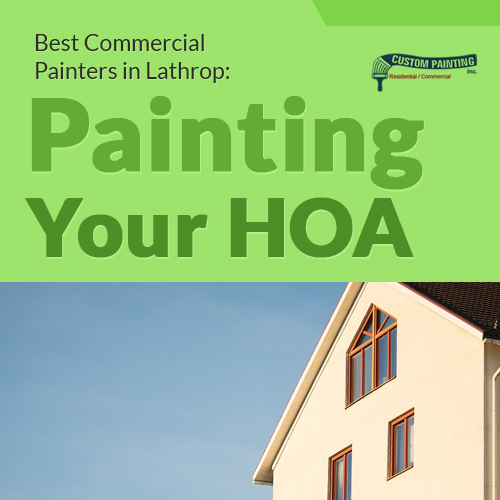 If you are a property manager or member of a local homeowner's association (HOA), you have always wanted your community to look pleasing not just to the residents but also to the visitors and potential house buyers. So it is little wonder that finding for the best commercial painters in Lathrop has been of a great importance.
Here are the reasons why maintaining a housing community with paint has been essential with your HOA:
1. Paint maintenance allows the painters to check for any possible surface damage
This is true especially for large communities with several homes or other types of residential units. The condition of the houses may not be the same. Many homes may experience flaking, peeling or an underlying surface problem. They may be caused by a variety of factors: natural elements, insufficient preparation, poor paint, or water damage due to leaking pipes. Depending of the extent of damage, they may require certain repairs such as caulking, filling and sanding.
Some residences, on the other hand, may only have minimal surface flaws and may need only a once-over of simple cleaning and painting.
Nevertheless, all your housing units deserve constant checking and maintenance. It is a good idea that the HOA discover and report any of these surface problems to the commercial painters, even if it is not part of their regular scheduled maintenance.
2. Paint maintenance helps in protecting surfaces
The capability of paints goes beyond beautifying your homes. When a surface is coated with fresh paint, it gives a layer of protection against elements such as sunlight and moisture. Of course, all paints, even the good quality ones, will eventually wear out. But at least, good quality paints guarantee a longer-lasting protection compared to inferior ones.
It is not just painting that will provide protection to the surface. A good preparation of the surface is also the key to a longer-lasting paint finish. If the surface is left dirty before painting, even the best quality paints will not stick well to it.
3. Paint maintenance ensures highly professional and reputable paint contractors
Rules and guidelines vary depending on the HOA. There are many HOA guidelines that specify whether a homeowner should do his or her own paint maintenance project.  The homeowner may be required to secure an HOA board approval before proceeding to his or her own paint maintenance project.
There are some HOA guidelines, on the other hand, which require that paint maintenance should be done only by experienced, professional and reputable contractors.
If this is the case, then it is usual for the HOA to have business and professional dealings with commercial paint contractors. The HOA may hire these contractors directly or give a list of the recommended contractors to the homeowners. The HOA knows for sure that paint maintenance doesn't only consist of dabbing a coat of paint onto a surface. It also involves inspection, giving accurate estimates of the entire paint project, cleaning, preparation and clean-up after painting.
4. Paint maintenance helps in bringing aesthetic continuity and increasing property value
There is another significant reason why HOA exists: to create an aesthetically pleasing community. When a community looks well-maintained and beautiful, its property value increases. HOA guidelines make sure that both interior and exterior of a house is well-maintained and well-painted.
5. Paint maintenance helps in extending the life and quality of the house
As implied again, paints go beyond beautifying a house; they also provide protection to its surfaces and structure. HOA guidelines are instrumental in prolonging the structure of their homes. Regular home maintenance by cleaning and painting significantly minimizes the need for major repairs. They will also help save money as well.
Many HOA's have strict guidelines when it comes to maintaining their community. That is why they want no less than the best commercial painters in Lathrop in making their community aesthetically pleasing and well maintained.