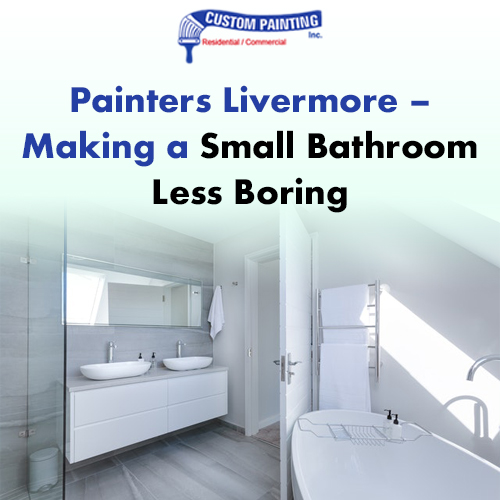 For painters in Livermore, there is no job too big or too small for them. These professional painters treat each project as equal and important.
Don't hesitate to ask the pros for ideas on how to repaint a small space like your bathroom. If you have a small bathroom, you have probably painted it solid white too often to give it an illusion of a bigger space. But eventually, you will get tired of the same old look.
You may not be able to do a full renovation on your bathroom because either you don't have a sizable budget or are living in a rental space. But it still feels unfair. After all, it's your abode, and every inch of it deserves to look better.
While neutrals are still a practical choice for a small bathroom, ditch the old solid white and choose from a wide range of other neutral colors. There are more neutrals available than before, so take your time to pick the right one.
You may combine at least two lighter neutrals for the lower and upper halves of your bathroom walls or painting them in alternate stripes. It will still maximize the illusion of space while giving your bathroom a bit more character.
Now that you're on track, you may want to choose an accent color. You may have to determine the focal point of your bathroom – the vanity, for instance. You may paint it with a bolder neutral, such as a darker brown or black shade, that will add some sophistication to your bathroom. Or paint the vanity an intense blue or vivid red to bring a pop of color amid the neutrals – this will draw your attention every time you step into your bathroom. You may also want to paint the door in the same color as your sink cabinet to keep everything consistent.
If your bathroom has a boring blank wall, transform it into a statement-making mini gallery by hanging some pieces of framed artwork. You could also install a few ledge shelves or racks on the wall to hang your favorite indoor plants – they will make your bathroom more inviting.
Are you tired of looking at your existing medicine cabinet? Replace it with a showpiece mirror to create more interest. You may also want to update your current light fixture by replacing it with a newer and more attractive one.
Now, the fun part – pick interesting decorative pieces for your bathroom. Find a rattan basket for towels or a dual-purpose toilet holder with shelf. You can also add a rug with fun colors and patterns, a beautiful new shower curtain, or a framed "bathroom rules" on the wall above the toilet.
Have some exciting painting ideas for your small bathroom but don't have the skill or the patience to deliver them? The best professional painters in Livermore will be there to transform your boring small bathroom into a beautiful and elegant space that will spark interest.