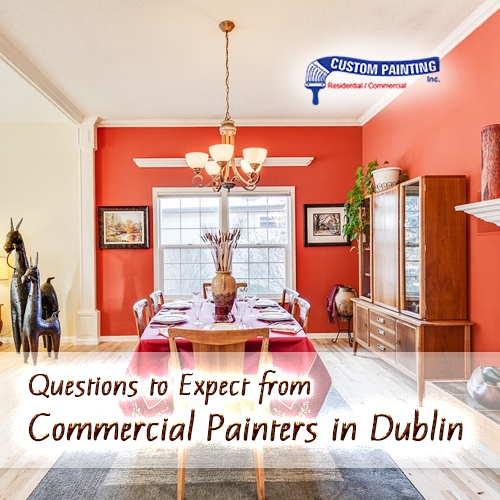 Questions, evaluations, lots of research… these are the things that you should expect to encounter when looking for commercial painters in Dublin who will work on your property. But it should not be only you who will do the questioning. In fact, commercial painters themselves may also assess potential clients by asking them questions, as well.
Do not worry or feel apprehended; after all, both you (as a client) and commercial painters are seeking good business dealings and relations with each other. For companies, they want to establish a good working relationship with their clients by building good communication and trust with them. Along the way, commercial painters ask questions of clients to seek relevant information, which they can apply once the project starts.
1. "What problems are you having right now?"
Naturally, there are people who contact commercial painters because they have something that must be addressed. Do the exterior surfaces have fading, cracking, or peeling paint? Are the interiors looking drab that they need new shades, but you cannot decide which is the right color to choose? Do those brick walls chalk way too much? Telling commercial painters what problems you have pertaining to the physical condition of your establishment will give them a clear idea on how to address them by providing pertinent solutions.
2. "What is your budget allotted for this project?"
If you tell to your contractor the budget that you have funded for the job, commercial painters will determine how much paint and materials will be used, and how many workers are they going to use. They are also likely to do inspections on your establishment, then figuring out the paint job costs (materials, labor and other pertinent expenses) and reasonably marking up the price so that painters will be able to make a profit. After that, they will issue the estimate to you. The estimate should be complete and accurate, and when possible, but within your budget.
3. "What are your expectations?"
It is important that painters should hear your expectations, so that they and you together will be able to have an in-depth discussion about this matter. What colors do you wish for the interiors to have? What kind of paint finish do you prefer? As much as they would love to satisfy your expectations, painters may also inform you about any unexpected occurrences or "what-if" scenarios should things not go as expected.
4. "When do you want to start?"
For this question, you should inform commercial painting contractors of the date where you want the project to get started. It would be better if you give them the date in advance so that they will have enough time to work on the schedule, especially if you want your business to remain open for your own customers while the painting project is still ongoing. It is also important to let the commercial painters in Dublin know if there is a specific date by which the project should be completed.
5. "What else can we do to provide you a better service?"
You are very aware why you have chosen this or that commercial painting contractor. You believe that they are the ones who can do the job well – according to your specifications, and on time. You should expect them to ask them some more questions such as "What else can we do to serve you better?" in hopes that you will start to share your own suggestions, ideas, etc. This is also another opportunity for you to open up a bit more and share your own business vision and goals to your chosen painting contractor. Make them feel that they are a part of such visions and goals – that's the reason why you have just hired them.
Commercial painters in Dublin ask questions to their clients because they want them to feel confident that they are entrusting their commercial establishment to a professional who assures to make it look good and brand new again.