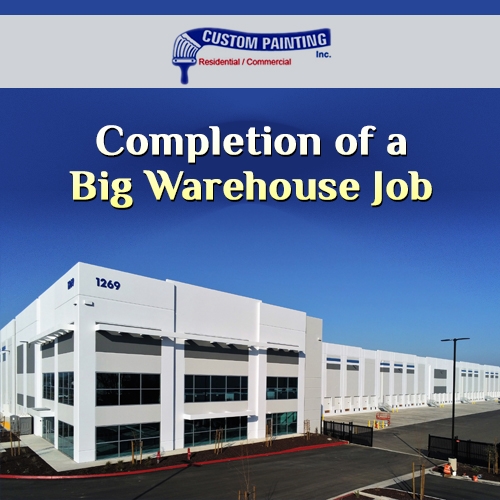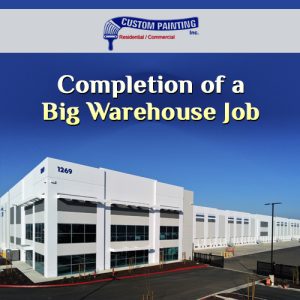 Custom Painting, Inc. is a full-service painting company that has been in the industry for more than 40 years. Our company works in many cities around the Bay Area and offers both residential and commercial painting services. We employ skilled painters and carpenters and have reliable customer service to ensure our clients have the best experience possible. Perfection is the aim of our company in every project, whether we do commercial painting or house painting, to make sure that we leave our customers happy and satisfied.
Our company offers custom work to meet the expectations and preferences of our customers. Large commercial projects are where our business really shines. Recently, we successfully completed a sizeable warehouse project at IPT-4 Grantline in Tracy, CA. Our crew was tasked to paint the interior and exterior of a building, which required them to cover more than 600,000 square feet. We worked on this project for almost three months, utilizing roughly 3,000 gallons of elastomeric paint to achieve the needed waterproofing.
Specifics and Difficulties Encountered During the Project
Facing challenges is expected on every project, and the IPT-4 Grantline Tracy Warehouse project is not an exception. While the project mainly went smoothly, we did meet some difficulties while working on it. Below are some of the specifics and problems we encountered during this project:
1. Painting the Warehouse's Interior
Since it was a large building, it had significantly high walls. The lower part of the wall measured 10 feet tall, and it needed more preparation before we could finish painting. After the prep work, we first painted the upper part of the walls and had to come back to paint the lower section.
Since our workers could not paint from the ceiling down to the floor, there was a visible transition line between the lower and upper sections of the wall. With this, we had to apply an extra coat of paint to even it out and achieve a seamless finish after applying the final coat of paint.
2. Waterproofing
One of the specifics of this project was to use elastomeric paint for waterproofing. With this, we utilized Sherwin Williams Sherlastic elastomeric coating. Our skilled painters had to ensure that they were using the paint based on the manufacturer's references and that we reached the total suggested mil thickness for the paint to work as planned.
3. Safe Painting Process
To avoid possible environmental impact, we decided it was best to use wash-out barrels, and we sent these to a facility that handles hazardous waste and materials. Aside from that, we also used containment systems under the barrels to avoid accidental spills from reaching the ground.
4. Environmental and Health Concerns
Custom Painting, Inc. is a responsible painting company, and we are always wary of how paints can affect the health of customers, workers, and the environment.
We know that painting an occupied building is very challenging, and we see the impact of paint fumes. Many businesses and facilities choose to remain open even when a painting project is taking place. That is why we took specific measures to make sure that the warehouse staff, visitors, and our crew were all safe while the facility was being painted.
Since we are painting experts, we are knowledgeable about traditional paints containing volatile organic compounds (VOCs). These include benzene, toluene, and xylene. When people are exposed to these VOCs, they may experience specific side effects, including:
Dizziness
Headaches
Nausea
Breathing difficulties
Irritation of the eyes, throat, or nose
Allergic reactions or asthma
Severe ailments like cancers, when exposed for long periods
Paints that contain low VOCs or zero VOCs are recommended for indoor painting. Fortunately, elastomeric paints are low in VOCs and emit fewer toxic fumes into the air. We also ensured our elastomeric paints were safe for indoor and outdoor painting.
How Did Our Company Deal with Hazardous Materials?
As mentioned earlier, wash-out barrels were used for this project. They are 55-gallon metal barrels that feature sealable lids. Using them allowed our painters to clean out pumps, rollers, and brushes. After use, they were picked up and processed at Invert Environmental Consultants. It is a facility that expertly handles hazardous materials. In addition, our commercial paint projects also utilize containment systems under the barrels. Doing so ensures no accidental spills will reach the ground as we paint.
California Laws on Proper Handling of Hazardous Materials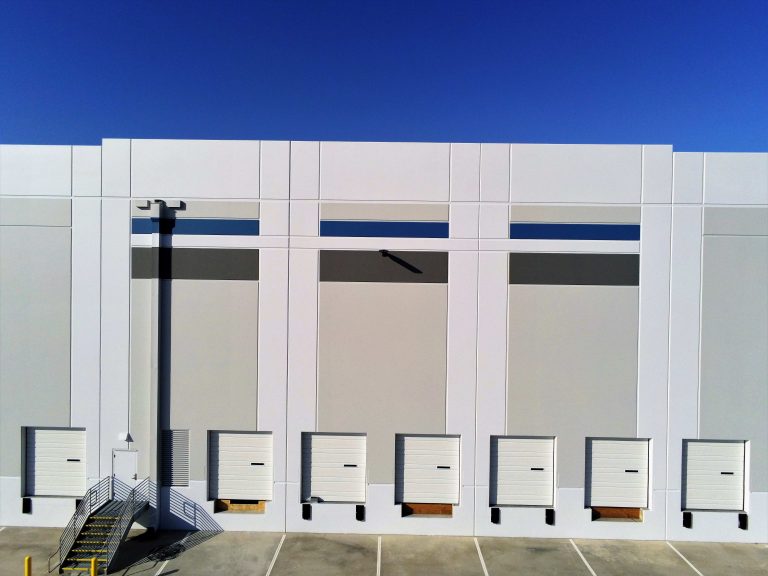 According to the California Health and Safety Code, hazardous material pertains to a substance or waste that may pose a risk of endangering human health or safety or degrading the environment due to its physical, chemical, or other characteristics. Based on the code, flammable, corrosive, combustible, toxic, or radioactive substances are considered hazardous.
The code defined "hazardous material" broadly. If a substance or material is considered harmful under any safety, environmental, or transportation law or regulation, it is possibly viewed as a "hazardous material" in the code. These may include:
Substances that need a Material Safety Data Sheet under worker protection laws.
Substances are regulated as hazardous under transportation laws.
Substances recorded as radioactive under federal environmental regulations.
Some of the most common hazardous substances include:
Cleaning solvents
Fuels
Oils
Paints
Thinners
Radioactive materials
Compressed gasses
Requirements – The Certified Unified Program Agency (CUPA) is an agency certified by the Secretary of the California Environmental Protection Agency (CallEPA). This agency controls facilities that produce hazardous wastes or store hazardous materials. Permits from CUPA are needed for hazardous material or waste management facilities to handle underground storage tank construction, removal, modification, and operation.
If proposing a new facility or making modifications to an existing one, it is advisable to get in touch with the following organizations:
Certified Unified Program Agency (CUPA),
Fire department (which has authority over the fire code execution),
Air pollution control district,
Local community service agencies, and
Local planning and building authorities
These organizations or agencies may have additional permits or requirements in the planning process.
Using Elastomeric Paints
We mentioned earlier that our crew utilized around 3,000 gallons of elastomeric paint for this project. It is a type of paint needed for waterproofing. Elastomeric paint provides a high-build coating that can help protect masonry surfaces like brick and building stones like concrete, marble, limestone, granite, adobe, cast, and glass. This paint type can also be used on metal, wood, vinyl, or virtually every surface type.
Elastomeric paint has different uses but is primarily used in commercial and industrial applications. Similar to other types of paint, it is also applied in liquid form. Elastomeric paints are durable and flexible. They can expand and contract on the surface when it is hot or cold. Aside from that, they can also withstand dirt and cracking.
Below are the other benefits that come with the use of elastomeric paint:
Flexible: Elastomeric paints are made with flexible material. This means that it can stretch and return to its original form without cracking or causing damage to the surface.
Durable and Long-Lasting: Since elastomeric paint has a strong composition, it is more durable and long-lasting than other paints.
Protective Against the Elements: Heavy wind-driven rains can damage other paint coatings. But it is different with elastomeric paints. It's because they are made to survive showers and storms far better than regular paint.
Dense and Watertight: Elastomeric paint offers a high-build coating that is dense and heavy. In fact, it is about ten times thicker than regular paint, creating a strong layer that can protect any surface. Since the coating creates a barrier, moisture will not penetrate the walls, making it watertight.
Energy Efficiency: Note that elastomeric paint is also resistant to heat. Therefore, it can help improve the energy efficiency of any structure it is applied. It can block ultraviolet rays, making it work like a sunblock for the building. This is one of the reasons elastomeric paints are highly favored, especially among industrial facilities and commercial buildings.
How Thick are Elastomeric Paints?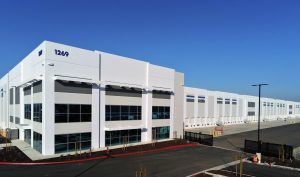 Density is one of the major differences between elastomeric paints and regular paints. It is very thick and quite difficult to apply on surfaces, particularly if you have yet to receive training to handle it. While it can be applied similarly to conventional paints, it is challenging for a novice or DIY painter, as it requires knowledge, experience, and expertise to apply correctly. Otherwise, it will work differently than intended.
How thick do you think is an elastomeric paint? When you are used to regular paint, you will be surprised at how thick and heavy elastomeric paint is. The difference is more noticeable once the paint dries on the surface. This is because elastomeric paint has more mils. If you are unfamiliar with the terminology "mil," it is the unit of measurement used to determine a paint's thickness. It is equivalent to a thousandth of an inch (1/1000th, 0.001" or 1.0 mil).
There are various elastomeric paint thicknesses, but it is often 10 to 20 mils per coat, compared to regular paint with only three mils per coat. The thickness of elastomeric paint creates a strong and durable coating that can protect any surface effectively from different weather elements.
This is why our company chose to use Sherwin Williams Sherlastic coating for our recent project and other elastomeric paints for many projects.
Conclusion
Our recent commercial project at IPT-4 Grantline Warehouse in Tracy, CA, was successful. We may have faced some difficulties along the way, but we've done our best to find solutions and overcome them. These include painting the high interior walls and taking steps to make the process as safe as possible for everyone and the environment. We are happy to add another satisfied customer to our list.
If you are opening a new business, planning to repaint your commercial property, or need help painting your home around the Bay Area, you can invest in a quality paint job with Custom Painting, Inc. You can contact our office at 510-795-0903 and schedule a time for us to visit your building or facility and discuss your painting needs.