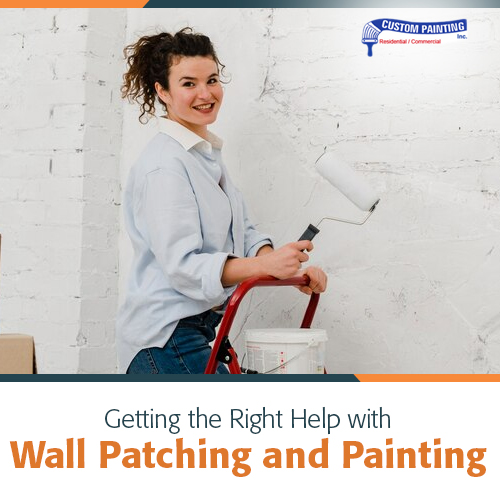 Patching walls and painting over them to make them invisible aren't easy as they seem. But as long as you have the right tools and follow the procedures correctly, you will be able to completely camouflage the patched area like it's not even there. You can do it by yourself. Or, you may also want to get help with wall patching and painting, especially when you have lots of surface flaws to resolve.
And of course, don't forget the quality of your paint – it will also spell a big difference when it comes to concealing flaws. Premium paints typically have high amounts of pigment and high-quality binding properties, which means a thicker coat and fewer coatings are required, resulting in better coverage. Since premium paints have thicker coats, they conceal flaws and patches better than cheap and inferior paints.
Priming the surface before painting can also help in concealing patched surfaces. Allowing the paint to adhere better to the surface prevents the paint from getting absorbed and enables the patch to blend into the surrounding wall.
Patching walls and painting over them may not need to be intimidating. Once you have the suitable paints and tools, follow these steps below to ensure a smooth, flawless finish.
Apply drywall compound – Apply drywall compound on a patch of your wall. Using a putty knife, start with a thin layer and work the compound beyond the wall patch. Extend into the surrounding wall so that the patched area becomes level with the rest of the surface, about four to six inches beyond the patch. Let the drywall compound dry.
Sand the drywall compound – Using fine-grit sandpaper, lightly sand the wall patch to smoothen any rough spots or bumps. Sand lightly around the patch's edges to blend evenly into the surrounding wall. Don't worry if the sanded area has smaller grooves after sanding, as the primer and paint will conceal them. Also, don't forget to put on a face mask and safety goggles before you start sanding.
Apply primer – Use a thin coat and apply it with a regular paintbrush. Don't worry if you've strayed a bit while applying the primer – the paint will later conceal that. Once the primer has been applied, make sure you have covered the entire wall patch. Allow the primer to dry.
Paint – Important reminder before proceeding with paint: make sure that you use the same paint that the current paint color on the wall has to match with the rest of the wall. If the paint has aged, the simplest solution is to paint the entire surface to ensure that the color stays even throughout. If the paint is not that old, begin by applying a small, thin coat over the primer and allow it to dry. Once the paint dries, be sure to take a look at it. You will probably still see the outline of the patched area. Continue with a second coat to give it better coverage.
If you need help with wall patching and painting, you'll want to ensure that the painting contractor you're hiring is licensed, bonded, and insured. Of course, you're also looking for a contractor with years of experience in a residential and commercial painting business. Custom Painting, Inc. is a licensed and insured provider with over 40 years of experience serving in Bay Area cities like Danville, San Ramon, Livermore, Pleasanton, Concord, Fremont, Pleasant Hill, Alamo, Walnut Creek, East Bay, and surrounding cities. In addition to painting, we provide other services such as installing custom molding, popcorn ceiling removal, and general repair and replacement work.