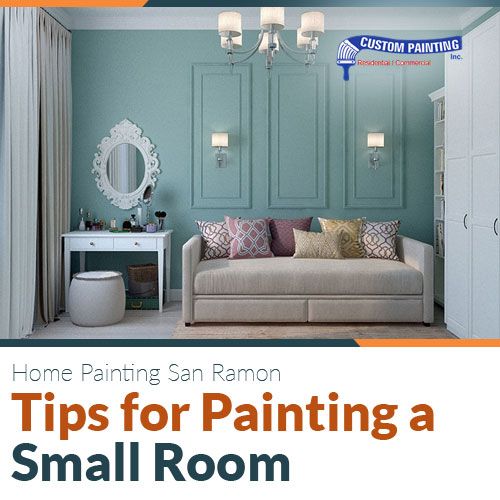 Home painting in San Ramon can turn your cramped, drab-looking room into a cozy and inviting space. All it takes is applying the proper painting and design techniques and choosing specific colors and shades over others (they don't necessarily have to be lighter colors). Check out the following tips:
1) Clear the clutter
Make sure that your room is clear of excessive and unnecessary clutter. No matter what colors or design elements you choose to make your room appear larger, any of these approaches won't work if there is too much going on in your room. Clutter is distracting and will make your space smaller. If you are already starting with a small space, make sure you keep things off the floor, couches, tabletops, and other surfaces. Clearing the clutter will make your room appear larger (and less suffocating!)
2) Use a light color
The most common approach when painting smaller spaces is to use a light paint color. Traditionally, lighter colors in smaller rooms can create an illusion of a bigger and more open space. Light colors reflect more light (rather than absorb it), so they will make fair use of any natural or indoor light to create a feeling of space.
3) Paint an accent wall
Another approach you should consider is to create an accent wall. Not all designers favor the accent wall – that is, painting one wall that is a few shades darker than the rest of the walls – especially when they're dealing with small spaces. But when you're trying to make the room look more open, a darker color on one wall can make it appear as if it is receding. Using this will trick the eye into thinking that the space is bigger.
4) Use a dark color
You may be surprised to find this tip. More people prefer darker colors for their own small spaces. Darker colors absorb light, creating a snug, cozy, and intimate ambiance to your room. However, a dark-colored scheme can also play an optical illusion by making the room appear larger than it is.
5) Paint the ceiling
When painting your small space, don't forget the ceiling! Painting the ceiling with the right colors will make a big difference. A lighter color will make the room appear taller and bigger, while a slightly darker color on the ceiling provides a contrast to the light-colored walls and helps define a bigger space.
Home painting in San Ramon companies will help you see the potential of your small space. Most of these companies offer color consultation services that can help you make smart interior color decisions you will love.