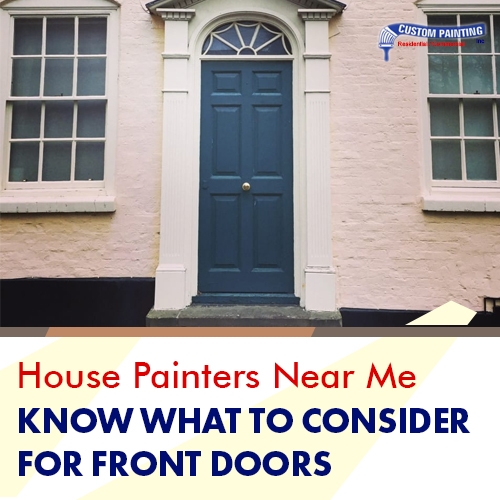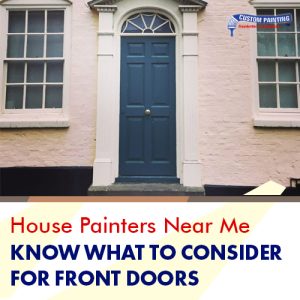 Are you ready to refresh the look of your front door but don't know where to start? Your reliable house painters near me can give expert color tips to help you discover the perfect hue for your front door.
Painting your front door shouldn't be an afterthought, whether just a touch-up with your favorite shade or an entirely new color. After all, it is the first thing your guests and passers-by will see in your home. It is the "face" of your home. So, you might give your front door a powerful statement that will stop them in their tracks.
Benefits of a Fresh Coat of Paint
Here are some benefits of repainting your front door:
It will make your door long-lasting. Priming and painting make the door more durable than staining.
It's a simple and cost-effective way to update the appearance of your home compared to painting the entire exterior or installing a new door.
It will enhance your home's curb appeal.
It will add to your home's property value, especially if you plan to sell your home soon.
It's an easy project that you can do in a day.
Things to Consider Before Repainting
If your front door is still in good shape and you want to give it a new coat of paint, here are some things you should consider before starting the project:
Look at your front door's surroundings for color ideas
Before picking a paint color for your front door, consider your home's current palette – the color of the siding, shutters, trim, etc. Either you want a shade that will create harmony with the rest of the home or want your front door to stand out but still create a cohesive look. For inspiration, turn to the landscape. If your home is surrounded by greenery, such as trees in the background, consider colors that complement nature, like pine green, navy blue, or black.
When to paint?
Almost every inch of your home needs maintenance, including your front door. If you see chipping, peeling, or cracking on your front door, it's time to repaint it. It may require some touch-ups; it's better to paint the entire door. You may want to set aside time – perhaps a weekend or holiday – to choose a paint color, purchase supplies, and do the task.
Which paints to use?
If your front door were previously primed, you would need around one quart of paint. Some homes have glass or storm doors that protect the front door from the elements. But if you do not have an additional door, use only exterior paint for your front door. Semi-gloss or glossy paints are typically preferred for doors and trim because they're durable and resistant to moisture, dirt, and scuffing. These paints' sheen also helps your front door to stand out.
Prep work
You can paint your door while it is in place or remove it from the hinges if you have a glass door or storm door to protect your home from weather elements and pests. If you're painting the door in place, you must place drop cloths or some old newspapers on the floor to protect it from paint. If you prefer to remove the door to paint, you can place a tarp over the opening to protect your home from the outside elements.
Whether you're painting the door in place or on a sawhorse, removing all hardware is necessary.
First, clean the door with a damp, clean rag. Then, use sandpaper to eliminate imperfections like stains or dents. Make sure to wipe away all the dust from sanding. Next, prime the surface. You will want to use a roller first for applying primer, then let it dry before using a brush to go over any trim work and any smaller details on the door.
Painting
You can also paint your front door the same way as applying the primer – use a roller first and then a paintbrush for the trim and details. Or, go for the paintbrush alone to paint your front door. After painting, allow the door to dry before using it again. For a detached door, let the paint dry before re-attaching the door back in place.
Painting your home's front door can boost your home's curb appeal. The great thing about painting a front door is that it's a relatively easy and quick project that anyone can do. But if you have an extensive exterior painting project and feel this will be more work than you are willing to do, you may want to hire a professional house painters near me to complete it.