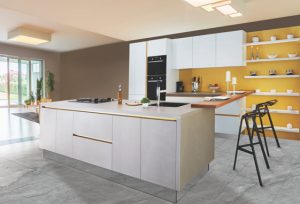 Painting the kitchen may be one of the most demanding parts of house painting in San Ramon. The kitchen is the place where your meals are prepared. Your dining area may be next to the kitchen. It can be a busy room and may experience oil, smoke, or dirt and grime.
Painting the kitchen is both a challenge as well as an opportunity. It is a challenge because it may require you to remove fixtures like faucets, sinks, or countertops. Cabinets and shelves may also need to be removed to facilitate painting. But it's also an opportunity because you have the chance to turn an otherwise utilitarian space into a more appealing space. Accomplishing this takes getting the right type of paint and colors that will make a difference in the room.
For most high-traffic areas like the kitchen, a glossy finish is recommended. You can choose from eggshell, satin, semi-gloss, and glossy. Eggshell paints are generally recommended for most aspects of kitchen painting, while some types of paint finishes are better for accents. All glossy paint types clean easily, although they are not perfect at hiding flaws on the surface.
Now that you have decided about the type of paint finish, your concern will be toward color. So what really is the best color for the kitchen? Well, there's no fixed answer to that, but will depend on your kitchen as well as your preference. Take a look at some of our color suggestions that can work for your kitchen:
White – This choice provides brightness to your kitchen. It also helps you to see the food as you prepare it, and is easy to spot spills and food drops. However, a kitchen painted white is more prone to visible dirt so maintenance and cleaning should be done regularly. White is ideal especially for smaller kitchens, as it gives an illusion of space.
Beige – If you want a bright kitchen but don't want it all-white, go for beige. Like white, beige is a neutral color and can also give brightness to the space. But unlike white, beige otherwise provides a warm ambience. You can also pair beige with white — for example, paint the walls with beige and paint the kitchen islands and cabinets with white.
Red – Red is a warm and vibrant color and may stimulate an appetite. If you notice, most fast-food joints and restaurants are painted in red. No wonder red is often used to paint a kitchen. Most people start the day in the kitchen. A vibrant color like red will provide an energizing feeling. Believe or not, the color is very versatile and you can choose a variety of shades from crimson or vermillion to scarlet and maroon.
Yellow – Like red, yellow is a warm color which gives off vibrancy to the kitchen. Yellow makes people think of sunshine, so a kitchen painted in yellow can make people happy and spirited. It could also whet one's appetite. Yellow is soothing and can calm the mind. You can use yellow with either gray or white accents in the kitchen.
Green – Green has the perfect combination of being both energetic and soothing. Green works well with white accents, but can work equally as well with natural accents like ones made of wood. The perfect shades of green for the kitchen will be mint green, olive green, apple green, and lime green. Brighter greens, in particular, are ideal for accents such as kitchen cabinets and shelves.
Gray – You may be surprised by this, as gray is neutral and generally considered as dull. However the right shade can make a difference in your kitchen. You may want to pair gray with other colors to make it more versatile. It is a great color to build upon and is also good for cabinets and countertops.
These are only a few ideas to help you choose the right kitchen paint. Keep these suggestions in mind as you consider house painting in San Ramon.