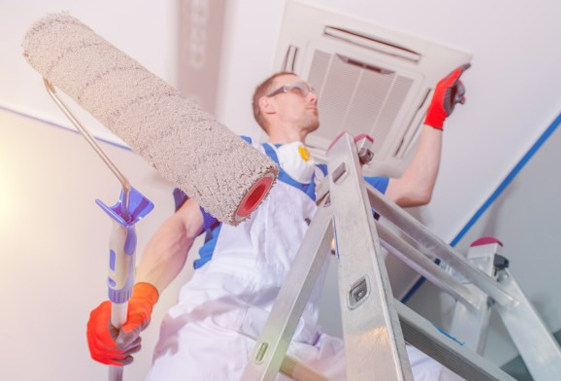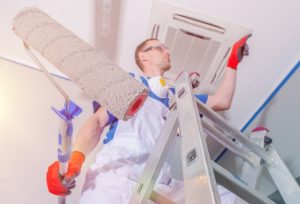 When you see that your walls begin to look drab, or paint has begun to chip and peel, then it's time for you to give your interior a makeover. House painting in San Ramon will do the trick. However, you must have some information on how to achieve a successful interior painting job which requires care, as well as the proper methods and techniques. It would help if you are backed up by experience. If you have all these, then do-it-yourself house painting in San Ramon should be relatively easy.
Here are the steps to successful house painting in San Ramon:
1. Before everything else, remove all the furniture, fixtures and wall hangings. It will be much easier for you to move around and do your job while prepping the surfaces and painting. If there are items that are immovable such as huge and heavy furniture, then cover them with drop cloths, preferably the ones made of canvas. Canvas is better as drop cloths than plastic because, although plastic can catch paint, the paint will not be absorbed. Besides, plastic drop cloths are slippery and can cause accidents while you are painting.
2. Prep the walls. Clean your walls to be sure they are free of dust, oil, or grime, molds, etc. Use a simple cleaning solution using mild soap and water to scrub the walls clean. Be sure to rinse it well to make sure the wall is thoroughly free of soap residue. Clean walls will help the paint to adhere better. You will also want the walls to be completely dry before you begin painting.
3. Repair and fill in any cracks or flaws in the wall with caulk or spackle, for a better-looking surface before it gets painted. Scrape away the excess spackle and allow the surface to dry. Not all spackle is made the same; some are made to dry faster than the others. When the spackle is dry, sand it smooth.
4. If you are deciding to paint any trim, molding or baseboards, you will want to start painting them first before you start on the rest of the walls. To do this properly, dab a small amount of paint to your brush. Start painting the trim, molding, and baseboards with long, even strokes. This is done to avoid overlapping brush marks.
5. Remove electric plug covers by using a flathead screwdriver. If some of the outlet covers are unique from each other, mark them so you know where they need to be put back and installed again. To avoid losing the screws, place the cover and screws in a baggie or a cup.
6. Use a low-adhesive tape to cover along the trim or windows to keep the paint from seeping onto the surface. If you have painted the trim first, cover it completely with tape, leaving only the walls exposed. After you finish painting, peel and remove the tape gently while the paint is still wet.
7. Priming may not be necessary, but it is recommended. While there are many primers sold on the market, and there are also paints available that have primer in them. In using just the primer, fill your brush or rollers with it but not to the point that it's dripping. Paint with the primer starting from the top of the wall and move down to prevent the dust from being moved upward. If you paint the trim prior to painting the walls and get a little paint on the wall, it's ok, as long as you are able to paint over it.
After you have done all the preparations, then you're on the way for a good painting job. If you have followed all of these steps, you'll have successful house painting in San Ramon if you decide to do the project yourself. Otherwise, you can also hire a professional painting contractor to do the painting for you.