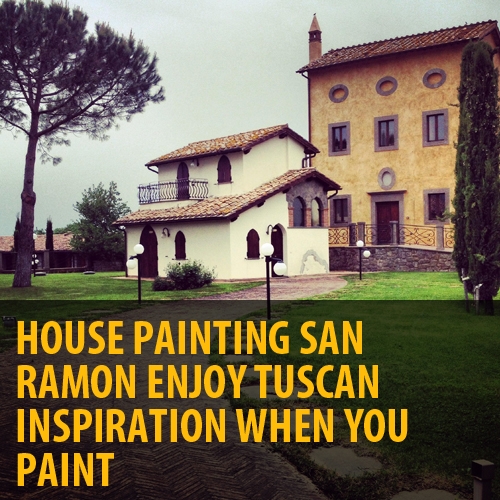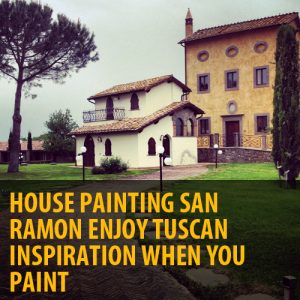 When homeowners are house painting San Ramon, there are certain styles that many homeowners want to apply in their own homes. One of the popular styles is the Tuscan-inspired look. If you don't have an idea what a Tuscan-style home is, it evokes of the traditional, Old World European style decor influenced by the natural environment in the countryside of Tuscany, Italy.
A Tuscan-style dwelling reminds you of warm, welcoming colors, rustic and sun-baked appearance. When you do house painting in San Ramon, incorporate the elements that remind you of Tuscany. This might include textured walls with an aged and weathered appearance, materials such as elegantly wrought iron accents, terra-cotta tiles, leather, marble, copper and wood. The colors that are mostly associated with Tuscan style are dark warm brown, rust red, burnt orange, sunshine yellow, olive green, and deep Mediterranean blue. As a result, a Tuscan-inspired style is quite versatile, as it can appear informal, rustic, or formal.
Contrary to appearance, the look is amazingly simple to achieve, if you only take the proper steps when house painting in San Ramon. Tuscan style is really popular, there are elements that are readily available in many retail and home improvement stores. You can achieve this rustic but elegant Tuscan look for your home by doing it yourself, or by hiring a licensed painting contractor to make sure your rooms have the best possible quality.
When you want to make the Tuscan style for your room by doing it yourself, here are some tips to help you out:
Start with a neutral paint color as a base coat, which will either be simple eggshell, off-white or very light brown. Leave the basic coat for at least 24 hours before you move on to the next procedure. This will also allow you to decide whether you want to add texture (for effect) or simply color.
If you want to add texture, you can do this by mixing some of your base color with joint compound. The mixture will be similar in a consistency to cake batter. To achieve the stucco-like texture, you can either use a comb-edged spreader, or a regular spreader. Add the mixture thicker in some areas and thinner in other areas to create an uneven, weathered surface.
If you are not adding texture, use a rag or sponge to add a wash of color, if you want only color over your wall's base coat. Allow it to dry for at least 24 hours before doing the next step. After this, you can add details to your wall by using many painting techniques. Use a stencil to create grape vines, leaves, olive branches, sponge on brick or stone shapes. The Tuscan style also reminds you crumbling stone patios, so create that "cracked" and antique effect by adding a crackle glaze. To make it more magnificent, paint a fresco or mural that will remind you of the Mediterranean landscape and scenery — rolling hills and poplar trees, grape vines, olive branches, or terra cotta buildings.
Adding depth to your walls is also a good way to give your room a more dramatic look. Achieve this by using two accent colors. Start off with combining a lighter accent paint color (such as yellow) and water. Mix them together until it becomes well-blended and almost thin. Dip about 2.5 inches of your paintbrush into the solution. Don't wipe the excess off; instead, leave the paintbrush almost dripping. Apply it on the walls to make uneven lines, then dab the walls with a damp cloth to soften the lines. Next, mix a cool, darker paint color (e.g., olive green) with water until it becomes fully diluted. Use this mixture in painting diagonal lines to the walls using a flat-edged paintbrush, then use a damp cloth again to blend with the background color. Repeat this step with a warm accent color such as brick red. This will give an antiquated, weather-beaten look to our walls. You can make adjustments or correct slight errors, such as lightening too dark areas with a lighter accent solution. Add missing accents on some spots.
Let the details dry for up to 24 hours. After that, seal the walls to add extra protection as well as to keep them looking great. Ideally, two coats of clear sealer are applied. Fixtures and accessories add the final touch. House painting in San Ramon is all it takes to make your room magically transformed with an old-world, Tuscan charm.