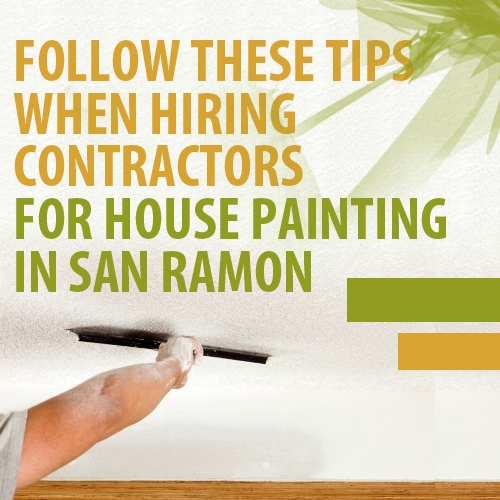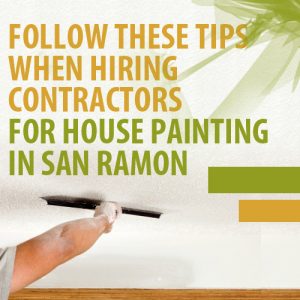 When house painting in San Ramon, property owners want to make sure they hire a qualified paint contractor. This is true when they consider how to improve the look and quality of their home. It may be difficult to make a decision because there are so many painting contractors in the area, so here are some important tips to help you in hiring the right paint contractor.
Take time to ask around. Get referrals from friends, neighbors, and acquaintances who will tell you about their good (or bad) experiences with painting contractors. You may ask for referrals from several paint companies, too. When you have a list of referrals from paint contractors, be sure to take the time to contact them.
Get at least three estimates from the contractors, more depending on the size of the job. Similar jobs may have varying painting rates. If you call a contractor in San Ramon but the contractor won't come to your location and offer a free-estimate, you can go to the next contractor on your list. After talking to several contractors who offer estimates, compare the estimates. Ask them for a copy of their contract to see if the estimate includes warranty information and anything related to completing the work on schedule. If the companies are remarkably different from each other, don't be afraid to ask what's not being done or what things they're skimping on (paint, painting materials, etc.). Don't also hesitate to talk with the contractor you've chosen if another contractor has a lower price. Chances are your choice contractor will lower the price because they want your job. However, be reasonable; don't ask the contractor to lower their price too much.
Once you've decided on the contractor, read their contract thoroughly in order to fully understand its terms and conditions, and other considerations. Don't be afraid to ask questions if you find things in the contract that you don't understand. A good contractor will help you in reviewing your contract before you sign it, to make sure you fully understand it and have all of your questions answered.
Some of those questions that you may want to ask to your contractor are as follows:
Do you have insurance? And what does your insurance cover in particular?
Do you have the proper/required license? (Only ask this question if the state requires licensing)
How many coats of paint does this estimate include?
Is the removal of furniture part of the estimate or will I have to move the furniture out before you start painting?
Does the quoted price include prep and clean up or is that extra?
Are there tasks that would increase the price before the work is completed? What are the procedures regarding those additional expenses?
Are you a member of any local or national painting contractor associations?
Do you do the job yourself or is it subcontracted out to others?
What brand of paint do you use?
Can you provide references? If the contractor offers you a list of references, make time to call those people listed. Don't just ask them if they're happy with the contractor's performance. Ask them other relevant questions such as:

Was the work completed in the time they quoted?
Did you and your contractor encounter problems during the course of the project? And what did the contractor do to solve these problems?
Did the contractor arrive to the site on time?
Did they clean up thoroughly after the work was completed?
Before the contractor leaves after the job is done, make sure that they will accompany you in your inspection of their work. This will allow you time to discuss with your contractor about certain areas that the contractor might have missed during the project. It will allow the contractor to correct these slights. Most contractors understand you will want to do this before paying them the final payment. They know some contractors, once they're paid, make it hard for you to call them back to correct any flaws they made.
Hiring a qualified painting contractor when you have to do house painting in San Ramon may take a bit of time and research. You want to have the best quality painting job for your property. Doing some work before hiring a qualified contractor will benefit you in the long run.