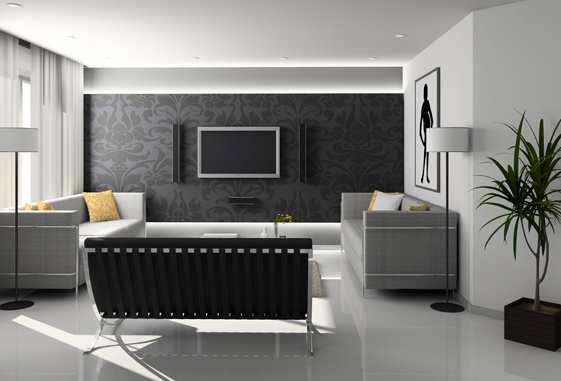 When you're house painting San Ramon, you may not realize painting textured walls is often more complicated than painting smooth surfaces. You will definitely want to pay particular attention to a textured surface while painting a textured and rough surface — whether it's stucco, brick, or surfaces with a plastered texture.
A regular paintbrush or a roller just won't work when painting textured walls. You need the right tools for your job, as well as a somewhat different painting approach.
Considering you're having textured walls to paint, you must also consider what type of paints you are going to use. Choose semi-glossy alkyd paint over latex or water-based flat paints for painting textured walls. Textured surfaces will draw in more dirt and dust, so therefore covering them with semi-glossy paints will make the walls easier to clean compared to using flat paints. Plus, semi-gloss paints won't be also prone to absorption by the textured surface, unlike water-based paints.
Consider the three common techniques of painting textured surfaces:
1. Painting by using a paintbrush
A wide paintbrush is usually preferable over smaller, narrower ones when you have to paint rough walls. Since you'll be using alkyd paint, choose a brush with natural bristles — soft ones that are made from natural animal fur such as a camel's. Don't choose a brush with synthetic bristles, which is used for water-based paints.
To paint the textured walls while using a paintbrush, start painting in one, diagonal direction, and then the other. In this manner, the paint will cover every part of the surface. Painting in diagonal directions will minimize brush strokes.
2. Painting by using a paint roller
You must look how "textured" your surface is and that will help you decide in choosing the type of roller you're going to use.
Walls with enough amount of texture – a roller with a 1/2 nap
Walls with an even rougher texture – a roller with a 3/4 nap or longer
Begin painting by doing overlapping vertical strokes. If this technique is still not enough to cover the rough surfaces then begin it instead by rolling with a "V" pattern, and then proceed by painting it with vertical strokes.
The great thing about rollers is that they hold more paint than a paintbrush does, even as you roll it on the textured surface. Painting with rollers will also eliminate the chances of small splashes of paint, unlike painting with a paintbrush.
Now that you've rolled the entire wall, then inspect areas that hold extra paint. Once you've noticed that they excessive paint, roll it off but this time — but this time using with a new roller.
3. Painting by using an airless sprayer
Start by spraying the textured walls horizontally measuring around 4 feet (or 1.2 meters). Coat it with another spray, but this time about 50% of the amount of paint from the first spray.
Use the sprayer slowly and deliberately to ensure proper coverage. If you spray too fast, you won't be able to cover the entire textured surface. If you otherwise spray too slowly, it will cause the paint to drip.
As indicated earlier, textured surfaces need particular attention when painting them. Whether you decide to use any of the three methods mentioned above, extra care should still be exercised in order to achieve a professional-looking and even result that you have always desired. Not applying the paint well will result in a considerable mess, and you will have to spend unnecessary extra time, paint and cost to correct any errors.
If you want more tips about painting textured surfaces, call a professional, licensed painting contractor like the team at Custom Painting, Inc. Only such contractors will be able to give homeowners wise tips and tricks about house painting in San Ramon.