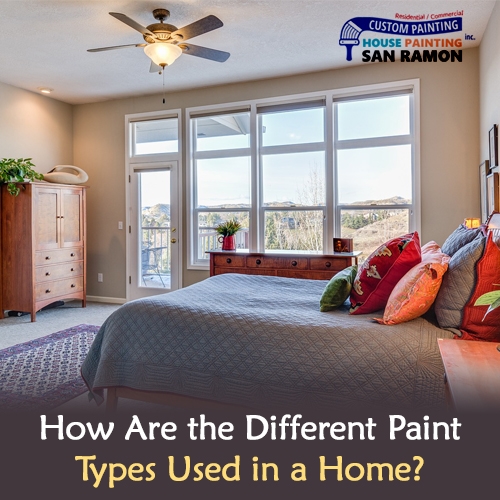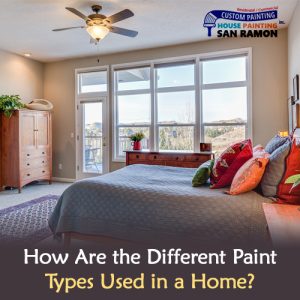 House paints no longer come in just one or a couple of types. There are so many types and brands of house paints today. That's why when it comes to starting a new home painting in San Ramon project, knowing where to start can be overwhelming.
Choosing paints for your home is no longer about the colors anymore. You should also choose paints based on how well they can protect the different surfaces in your home and how long they will last.
This is why determining what type of surfaces you're going to paint can be very helpful as it will enable you to buy the best types of paints. It will save you time, money, and effort. It will save you from potential problems and frustration, as well.
The guide to the most common types of house paints
1) Oil- and water-based paints
Basically, the types of house paints can come in water-based and oil-based. It simply refers to the content of the paints themselves, and each of them has its upsides and downsides.
As the name suggests, water-based paints are made with water, while oil-based paints are made with natural or synthetic oils. In general, oil-based paints are more durable and provide gloss, but take longer to dry. On the other hand, water-based paints, such as latex and acrylic, provide good coverage and take less time to dry.
Also, keep in mind that water-based paints are easy to clean with just soap and water, while oil-based paints are more challenging to get rid of as you need mineral spirits to remove them.
Water-based paints are always the preferred choice for painting:
Interior and exterior wall surfaces
Roofing
Railings
Floors
Cladding
Cabinetry
Oil-based paints are good for:
Exterior trim
Door, window, and interior trim
Kitchen and bathroom walls
Cabinetry
Metal surfaces (such as outdoor furniture or wrought iron fencing)
There are two types of water-based paints: latex and acrylic. The terms "latex" and "water-based" are interchangeable and come to mean the same paint. Even though it's called latex-based paint, there's no latex in the paint at all. Acrylic paint, on the other hand, has greater amounts of acrylic polymers than latex, making it more durable than the latter (and thus more expensive).
2) Interior and exterior paints
This one is pretty straightforward. Interior paints are for interior walls, while exterior paints are for exterior walls.
Exterior paints tend to be a lot durable than interior paints as they are designed to withstand various weather elements, pollution, as well as general wear and tear. While you can use interior paints for exterior applications, it's best to stick with the correct paint for the job.
3) Enamel
Enamel paint is similar to oil-based paint. Sometimes, oil-based paints are marketed as "enamel" due to their durability and glossy finish. Enamel paints are available in semi-gloss and glossy, and are best for use in outdoor areas subjected to extreme weather and temperature changes. Enamel paints are also beneficial for indoor areas that get a lot of wear and tear.
You can use enamel paints on exterior siding, doors, cabinets, door and window trims, railings, and high-traffic areas.
However, enamel paints can take a long time to dry, has the tendency to discolor over time, and are possibly toxic as they can contain hazardous substances. That's why proper prep work and care must be taken in using such paints.
4) Specialty paints
While the are regular paints, there are also "specialty paints."
Specialty paints are paints that can have additives incorporated into them, such as fire-retardant, anti-mold and mildew, or anti-condensation formulas.
Fire-retardant paints – Paints with fire-retardant additives can help stop or slow down the spread of flames or fire across a surface. When your house is coated with this paint, you can protect walls, ceilings, and floors, as well as safeguard all your assets from fire. You can use this type of paint if you live in a forest fire-prone area, for example.
Anti-mold and anti-mildew paints – Paints with mildewcide can prevent mold and mildew from inundating your walls. These paints are ideal if you live in a moist environment.
Anti-condensation paints – These paints provide an extra layer of insulation to your walls and prevents condensation from building up on them. While these paints won't stop moisture, they can help improve your wall's thermal performance so that they become less cold and less at risk to damping.
Get your house painted!
If you don't want to bother researching for the best paints and instead want to get straight to the results, leave the house painting job to affordable painters near me! Call Custom Painting, Inc. at (510) 795-0903 or fill out an estimate request form here. We'd be happy to provide you an accurate estimate – always for for free. To find out more about our services and how our customers are satisfied with our work, check out our About Us page.