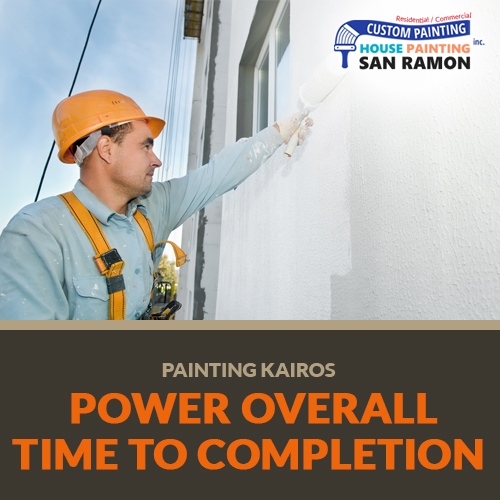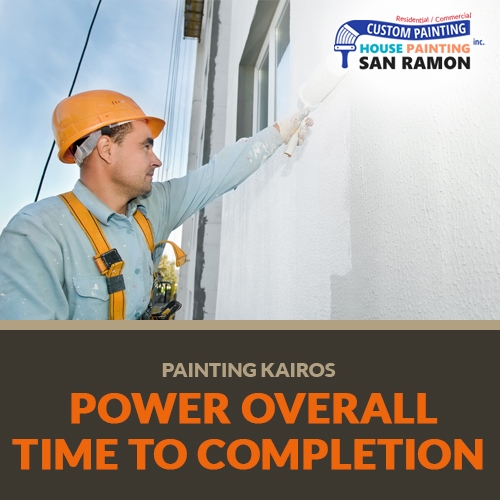 Custom Painting, Inc. has successfully finished a difficult exterior painting project for Kairos Power's warehouse in Alameda, CA. Despite several challenges, our team displayed remarkable expertise and passion to provide exceptional results. This project demonstrates our dedication to quality and our ability to tackle specific problems in the field of commercial painting.
Kairos Power is a large warehouse located on an old Navy base and was once a rail hangar built in the 1940s. It was a factory building before being leased by Kairos Power. While many ancient structures nowadays must be removed and replaced with new ones, the Navy's industrial and civic facilities are designed to last for many years. Due to this, many of them are reused and repurposed.
Custom Painting, Inc. was tasked with repainting the structure during the winter months, which was extremely difficult. Our professional painters had to deal with fog, wind, rain, and freezing conditions. However, our commercial painters thrive at this type of project regardless of the hurdles they face, and they were able to complete the task successfully, resulting in another delighted customer. Read on to learn more about painting Kairos Power's overall time to completion. 
Challenges Faced During the Project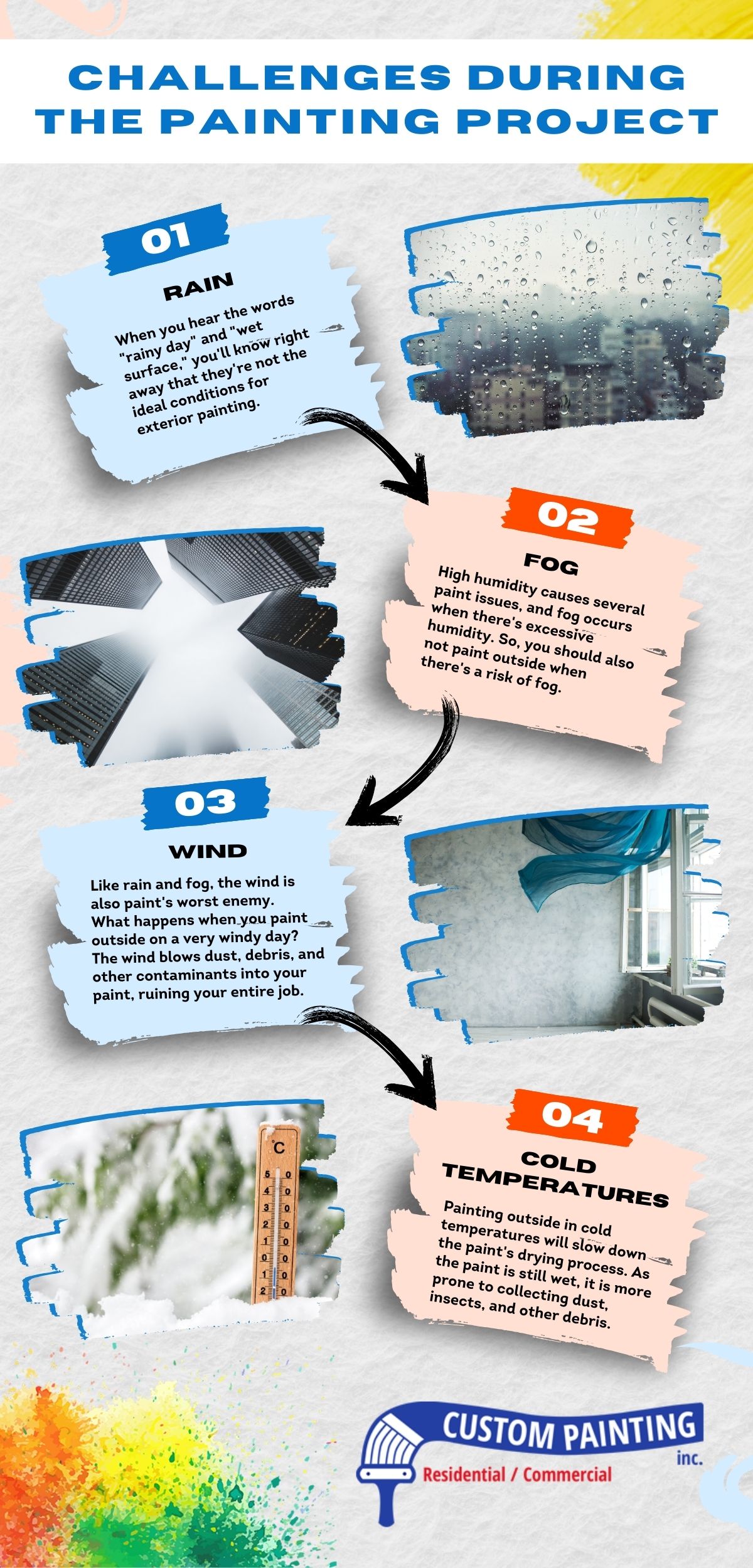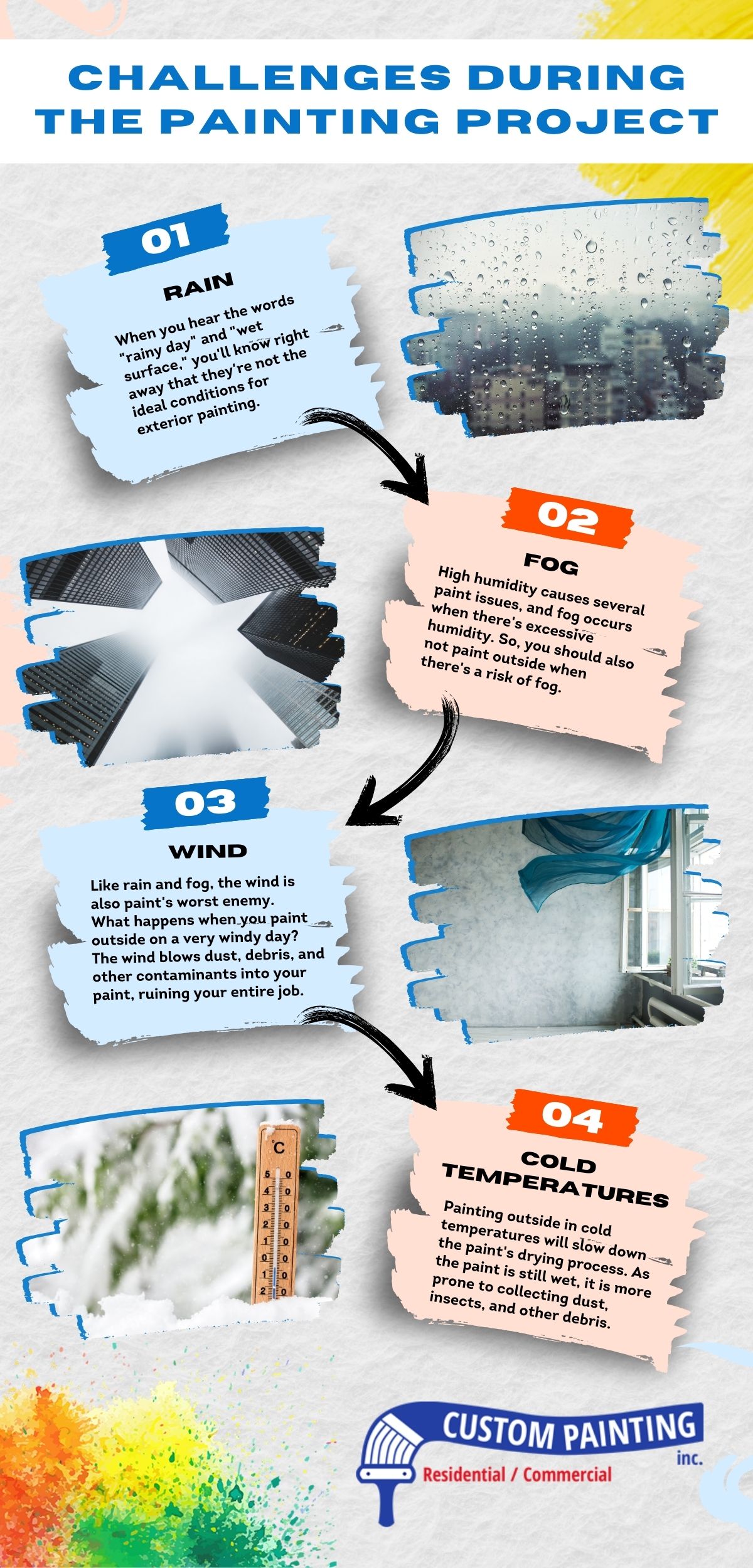 When it comes to exterior painting, the weather has a big influence. It's because it presents issues that could have an impact on the project's end result, such as extreme heat, high winds, and heavy rains. As a result, when painting exterior surfaces, painting companies must constantly monitor the weather conditions.
Some of the weather-related challenges that our crew encountered while painting the exterior of Kairos Power's warehouse are listed below. To come to a good decision, it is necessary to understand how each of these affects exterior painting.
Rain:

Heavy rain is one of the most difficult issues for exterior painting projects, and Custom Painting, Inc. ran across it while repainting the exteriors of Kairos Power. Rain can cause paint to run or streak, resulting in an uneven and ugly finish.

Fog:

High humidity can cause a number of paint issues. When there is an excess of humidity, fog forms. As a result, working on

exterior painting

projects while there is a potential for fog is not advised. Excess moisture in the air prevents paint from drying correctly and, in the long term, can cause major problems such as blistering and peeling.

Wind:

Another opponent of paint is the wind. Because if you paint an exterior surface on a day with strong winds, the wind will blow dust and debris into the paint, ruining the job. When the wind is whirling, it's also tough to dab a layer of paint. Even if you are able to apply paint on surfaces, the results may be unpleasant since wind may cause the paint to dry too rapidly, resulting in minimal film buildup.

Cold Temperatures:

Painting in freezing temperatures presents its own set of obstacles, which Custom Painting, Inc. has faced. However, with a few strategies, the procedure can still be successful. One of the most challenging parts about painting exterior surfaces in the winter is that the paint takes significantly longer to cure. This is inconvenient because it may cause the project's completion date to be pushed back.
Non-Weather-Related Challenges
Apart from weather-related concerns, our team encountered a few other issues during the Alameda project. The warehouse's abundance of windows was one of its unique characteristics. In order to protect 10,000 window frames and glass panes, overspray and paint drips must be avoided, and they need to be covered. It was an exhausting and lengthy procedure but, nonetheless, worthwhile because the work resulted in a neat appearance.
Project Delays
Among these challenges, rain was the worst. Painting outside on a rainy day is not ideal. That is why our team decided to put off the project until the weather improved. Since it was not a good idea to paint immediately after the rain ended, we waited around a day or two after the rain occurred to make sure that the surfaces were completely dry for painting. We probably had around 20 days or roughly 3 weeks of delay because of the rain. But this is fine because a good painting job should not be done in a rush.
Completing the Project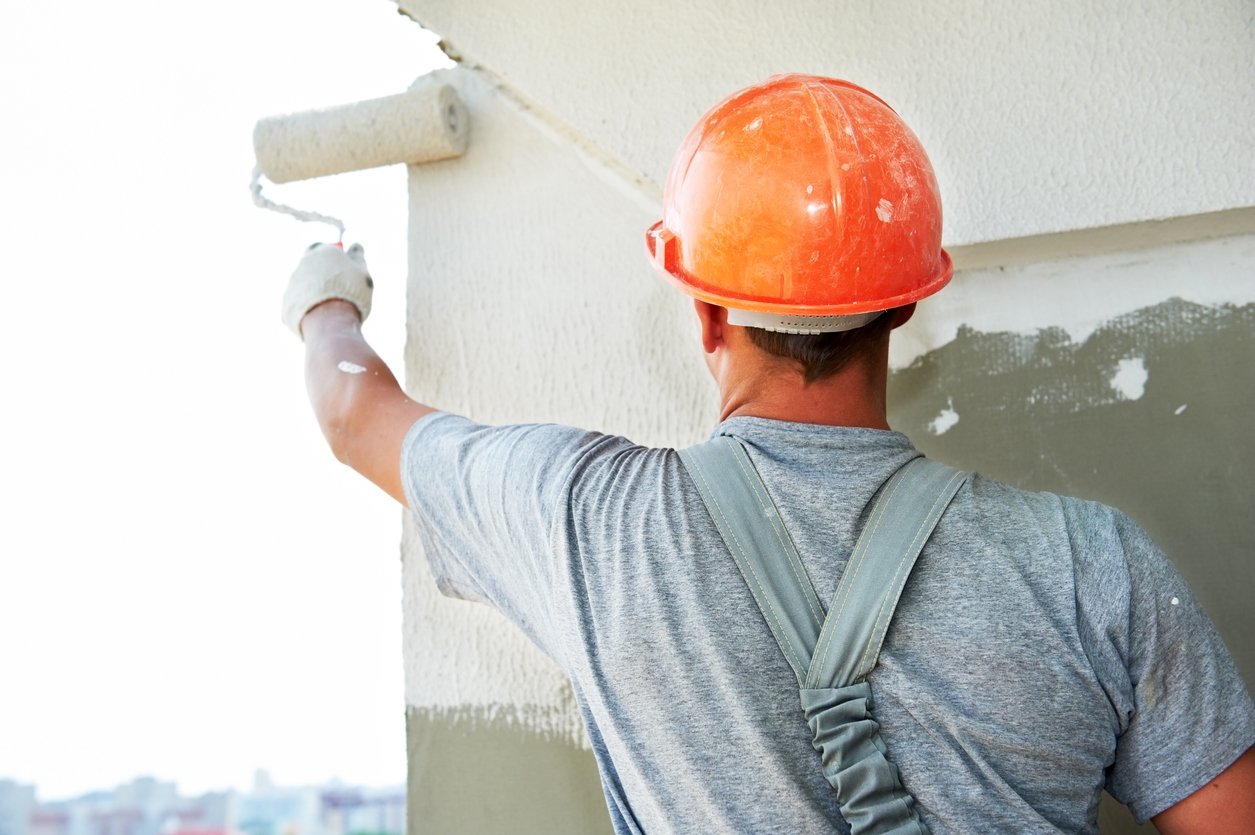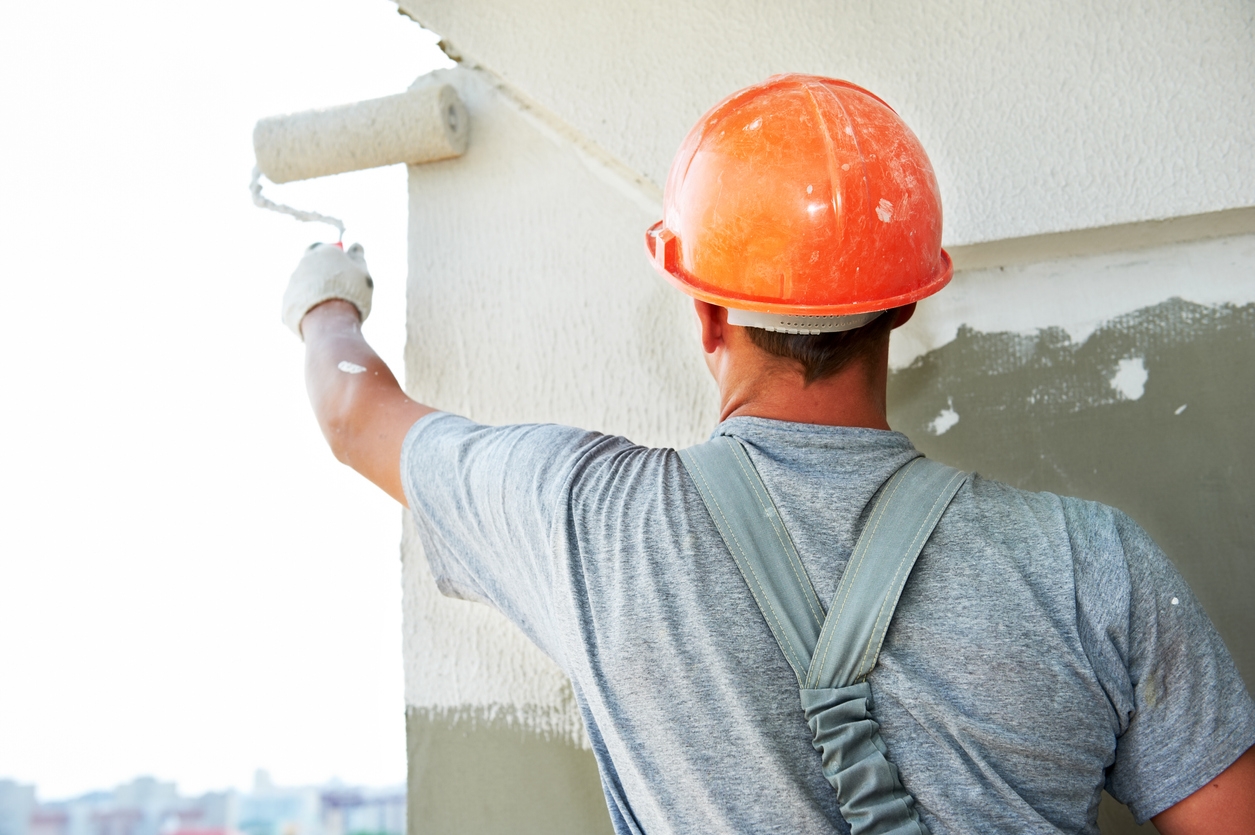 Even though our team faced several challenges and delays during the project, we still successfully completed it on time and to the client's satisfaction. This became possible through the team's careful planning and effective problem-solving. Below are the solutions that we implemented to ensure the successful completion of painting Kairos Power's warehouse:
Monitoring Weather Conditions
Our team established a dedicated weather monitoring system. We tracked forecasts meticulously and made scheduling adjustments accordingly. When unfavorable weather was predicted, we rescheduled the exterior painting. This helped us avoid costly setbacks caused by weather-related damage to fresh paint and ensured that the project stayed on track.
Another challenge is the need to expedite the drying process for the exterior paint. Traditional paints can take a long time to dry, particularly in humid or cool conditions, which leads to delays in subsequent phases of the project. To solve this issue, we used Resilience by Sherwin-Williams. It is a quick-drying exterior paint product that helped us significantly reduce drying times. It allowed us to apply multiple coats in a single day, accelerating the overall progress of the project. This paint helped us stay on schedule, and it also provided an added layer of protection against weather-related interruptions.
Communication and Client Engagement
Effective communication with the client was crucial throughout the project. We kept the client informed about potential delays and the measures we were taking to address them. This transparency helped build trust and ensured that the client remained engaged and satisfied with our progress.
Conclusion
In conclusion, Custom Painting, Inc. faced numerous challenges and delays during the exterior painting project, including unpredictable weather conditions. However, through careful planning and the implementation of solutions such as weather monitoring, quick-drying paint, flexible scheduling, effective communication, and a skilled team, we successfully completed the project on time and met the client's expectations. Our commitment to quality and adaptability allowed us to turn challenges into opportunities for project success.
If you have a commercial or residential space that needs to be repainted, Custom Painting, Inc. can surely help you. We have been serving the Bay Area for more than 40 years, and we have a team of expert painters with an eye for detail and a strong commitment to quality. If you are interested in learning about our services, you may call us at 925-866-9610 or fill out this contact form, and we will assist you.