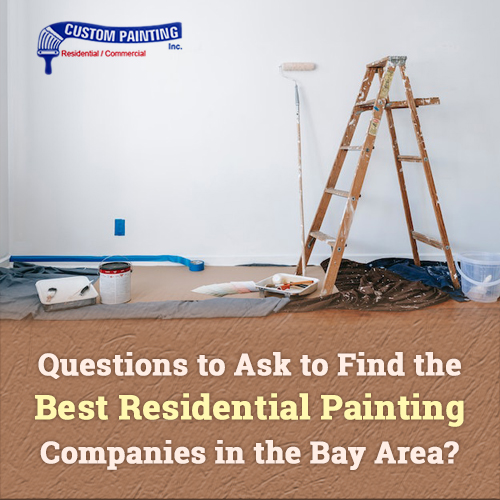 Painting is a simple but effective way to transform a space. If you work with the best residential painting companies in the Bay Area, you can improve any interior or exterior space with a significant upgrade.
However, a painting contractor must know what a paint job would entail. Likewise, as a homeowner needing a paint job, you must know what the painter can do for you. To understand what's going to happen in a paint job and to determine that this specific painter is up to the task, you should ask the right questions.
Here are the most common and important questions to ask painters:
Are you licensed? – The state of California requires any professional painting contractor to be licensed by the California Contractors State License Board (CSLB). If the contractor has a valid license, they have direct experience with residential and commercial painting, and they meet the basic standards that come with being a painting contractor. Having a license also means that the painters understand the terms of their contract, and if they fail or violate those terms, they risk losing their license.
Do you have insurance? – A painter with liability and worker's compensation insurance is also a must. Insurance protects you if your house is damaged or a worker gets injured on the site during the project.
What kind of warranty do you offer? – Every painting contractor should offer a kind of warranty or guarantee. Make sure that they offer only a written warranty, not some guarantee spoken over the phone. Ideally, a warranty should be for at least three years after the job is complete, as it is within those years that workmanship errors are most likely to arise. In that case, the painters will return to your home to fix those errors for free or for a small fee.
What products do you use? – The quality of the paint, primer, and tools directly impacts the end quality of the project. Steer clear of companies that cut corners using cheap but inferior paints and materials. Despite what others may tell you, the quality of materials matters a lot, especially if you want the paint job to last for years. High-quality paints provide an even application and durable finish. The result looks nicer, lasts longer, and provides the surfaces additional protection from the elements. A durable finish is resistant to fading, peeling, cracking, and chipping, adding beauty and protection for years to come. Please specify whether the paint job is indoor or outdoor so that the contractor will use the correct paints for the project.
Do you employ your workers or use subcontractors? – A painting company that completes every project with in-house workers is the only company you should trust. When a contractor subs the work out to other contractors, be suspicious. You don't know what their work ethic or skill level is. Subcontracted workers may not be committed to performing a quality job as full-time workers are. Since they're paid a fixed fee (instead of being paid by the hour), subcontracted workers will likely cut corners or not even complete the job.
How will you prepare the space for painting? – Prep work is an essential part of the painting process. Skipping this step would spell a painting job disaster. Your potential contractor must lay out the entire preparation process in detail. They should also ensure that you know how the process works, how it will transform your space, and how long the work will take to complete.
How will the space be protected? – It's but natural to be concerned about leaving your personal belongings to strangers who will be at your house for several days. A reputable and trustworthy painting contractor will protect your valuables by moving them to a safe place or by covering them so that they won't be damaged by paint drips that will most likely occur during the paint job.
Looking for the pros to paint your home? Contact Custom Painting Inc.
The best residential painting companies in the Bay Area may only be a message or phone call away! If you're looking for contractors to paint your homes (and prepare your list of questions), Custom Painting, Inc. can help. Our team of professional painters is known for their meticulous work and attention to detail, delivering flawless and quality results in every painting project. Contact Custom Painting, Inc. for a free estimate and color consultation.