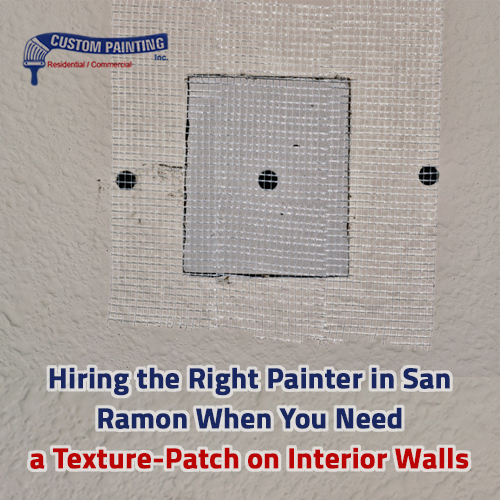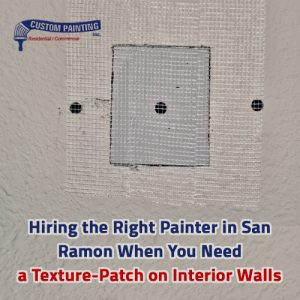 Repairing a textured patch is not the same as repairing regular smooth drywall. It requires a somewhat different set of tools, a different set of procedures, and perhaps a little time and patience, depending on the extent of the damage. But, if you don't have any of these things and you still need a texture-patch on interior walls, you can dial up a local painter.
Repairing the flaws
The texture on the walls is excellent for hiding imperfections. However, noticeable holes and dents can quickly become eyesores on your textured interior walls. While repairing a hole on textured drywall is not that difficult, it does require some extra work.
The first step is to draw an outline and cut around the damaged area. Yes, it means you're making a larger hole around it.
It sounds counterintuitive. You may ask, "Can I just apply the patch over the hole and be done with it?" You could, but you may end up with ugly frayed edges or bumpy drywall pieces pushing against the joint compound as you apply it. It will result in an uneven surface that will require the extra work of sanding it down to make it even again.
After outlining, apply a single-sided mesh tape used for patchwork. The purpose of the mesh tape is to create the patch and increase the strength of the drywall compound, which will be applied later.
Once you finish the patch, apply the drywall compound over it. Use a flexible putty knife to spread and smooth the compound over the patch. Then, "feather out" the edges so the joint compound blends in with the surrounding wall for an even, near-seamless finish.
Allow the joint compound to dry completely. After it is dry, sand it down to smoothen it.
Recreating the texture
Most methods to recreate texture on walls use a premixed wall compound. Wall textures in spray cans are also available for creating "bumpy" textures over smaller patches.
While recreating a new wall texture from scratch is not that hard, first, you will need to spend some time practicing it on a sturdy piece of carton or a scrap piece of wallboard. Keep on practicing your technique until you are finally able to mimic the texture pattern that's currently on your walls.
Painting over a textured patch
Once you've done patching the hole and applied a new texture over the patch, it's time to paint it over.
Doing some touch-ups over a patch should be the easiest part, right? That isn't necessarily so.
Even if the new paint you've just purchased has precisely the same color as the color currently on the rest of the room, you'll likely have difficulty matching them. It's probably because the old paint may have faded or become drab-looking, so touching up a textured patch with the new paint isn't likely to work. The vivid fresh paint may stick out like a sore thumb, which is not good.
The best possible solution is to paint the entire wall – just like an accent wall – with the new paint. Or maybe repaint the whole room if you have a lot of fresh paint to spare.
Can you DIY it? Or would you like to hire a painter instead?
Here are some tips for hiring a professional contractor for your texture-patch interior painting project:
• Start with online research – search for online reviews from Google and Yelp for independent and reliable customer reviews. Visit the painters' company websites, too.
• Interview the painters at the job site. Look for some "green flags," e.g., years of experience, a valid license, and active insurance.
• Check customer references. Reputable painters are more than happy to share their previous work with you. It is best to request at least 2 to 4 references from the contractor. Contact the references you received and ask them about their working experience with the contractor.
• Request a warranty or guarantee. Reputable painters will provide only written warranties and guarantees. The job's time may vary depending on the contractor, but the average period is one to three years. Custom Painting, Inc. offers a full five-year warranty.
• It's also good to find out the contractor's painting techniques. Professional and reputable contractor takes their work seriously and conscientiously. They always put the importance of prep work before painting. Knowing their overall painting methods and techniques will determine whether you will hire them or look elsewhere.
You can apply patches on textured walls and paint over them yourself if you have smaller holes. But if you don't have the time, the tools, and the patience, it is best to hire a professional instead to do the work for you. When you need a texture-patch on interior walls, hire an experienced and licensed full-service painting company with all the necessary tools to complete the job.