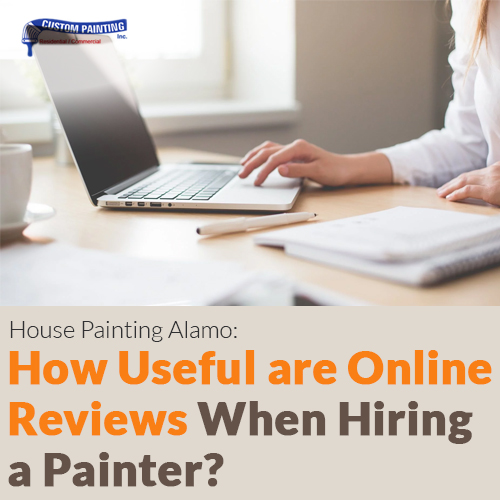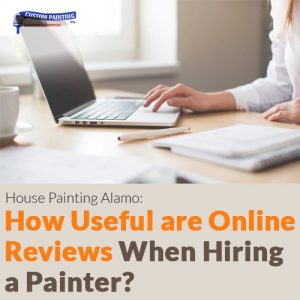 Hiring for house painting in Alamo service nowadays is only just a few clicks away. People can also get hundreds of customer reviews and recommendations without having to leave their homes.
Times have indeed changed. Online review sites are more popular than ever. It is a far cry from a few decades ago where contractors relied mostly on print advertising and word of mouth. Online reviews are a far quicker and more cost-effective means for contractors to promote their services. For small businesses, online reviews can bring them far more exposure when compared to traditional advertising methods.
While personal recommendations remain the most genuine, reliable, and valuable, online reviews are now definitely catching up. Almost all people, particularly millennials, are relying on online reviews and recommendations as much as personal recommendations. It is easy to see how online reviews can make or break a business.
While most people see online reviews as a go-to place when looking for professional painters, are all the reviews legitimate? Unbeknownst to many customers, many unscrupulous businesses post fake reviews, or pay someone to do that for them. It has been a common problem in the online shopping sector. While this problem has not come close to this level in the realm of home services, it does not mean that it is impossible to occur.
That is why it is all right for customers to maintain a healthy dose of skepticism. It is useful because it can prevent you from being lured by inferior contractors or people who pretend they are contractors. The good news is that there are good ways to determine whether the reviews are genuine or not. However, it does require more than just a casual glance at a business's ratings or reviews.
1. Reviews should sound natural, in the way that it sounds like coming from a real customer (instead of a bot). The language should be natural and do not sound awkward. The review should not also contain too much-repeated words or phrases, as they are an indication that these are the keywords stuffed into these reviews for SEO purposes, for example.
2. A business should have both positive and negative reviews. There is no perfect business. Even large corporations encounter criticisms from dissatisfied clients. However, a business that is proactive at responding and handling customer complaints can have lower chances of receiving negative reviews. Thus, a business that doesn't have any negative reviews is not certainly the most dependable indication of its dishonesty. It is especially true for home services and contracting where the volume of reviews is significantly lower than, say, restaurants, which can easily handle over a hundred transactions per day. Nonetheless, it is something to always keep in mind.
3. A local-based business, such as a home service or contracting business, should have reviews that come mostly from locals. Several review websites, like Yelp, all users' profiles are public. There are certainly justifiable reasons why a reviewer's profile does not match the location of the business he or she is reviewing. The most obvious reason is that the user may have moved to a different location. However, if a reviewer has not posted any other reviews within that location, it appears to be located somewhere else, you should consider that as a red flag.
As a consumer, you can also do something to help maintain the reliability of review sites. Most review websites allow users to report the abuse of untoward actions, such as offering cash in exchange for positive reviews.
Most review websites do not regulate who posts reviews on their websites. Some platforms, such as HomeAdvisor, require verification of a business license and background checks on the owner. However, this is not true in the case of popular websites such as Facebook, Yelp, or Google where anyone can create business profiles, even those who do not have the proper licenses.
When researching a painting contractor, first and foremost, you should verify that the business is licensed, bonded, and insured. It is also a good idea to check photos of the contractor's past work, to get an idea of how they do their jobs. Also, ask them to provide you references for the jobs they have done in the past.
While reviews are useful to customers, you shouldn't make your decisions solely around online reviews. While many businesses do enjoy getting good reviews and showing them to people, you should take them with a grain of salt. Instead, see the reviews as a mere check-up on the business. If house painting in Alamo contractors earn their good reputation not just by online reviews but also by completing every project they've had, they are worthy of your consideration.