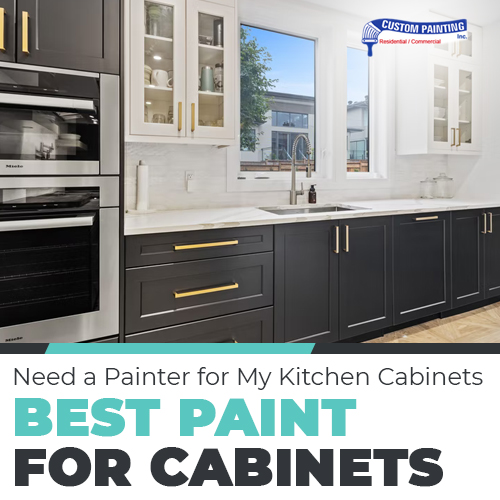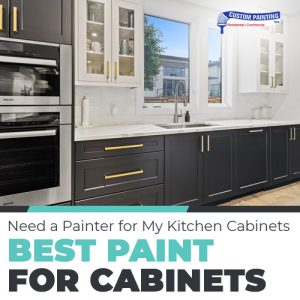 The kitchen is probably the most popular area in any house to renovate. But we all know that a complete kitchen remodel can cost tens and thousands of dollars. However, you can update the look of your kitchen by making cost-effective and simple changes, from decluttering to putting indoor plants to painting kitchen cabinets.
And speaking of repainting kitchen cabinets, you've realized that your cabinets have not seen a paintbrush in a long while. If you have dated or even old-fashioned kitchen cabinets that look dark and dingy and scream for a new finish, it's time to paint them. You probably think, "Do I need a painter for my kitchen cabinets, or should I do the work instead?" It depends on several factors – your skill, time, and budget. You may paint kitchen cabinets by yourself or hire a professional.
Whatever your decision, there are many great reasons to transform your tired-looking kitchen cabinets into updated cabinets that look brand-new. Painting your cabinets will make a huge difference and transform your kitchen from drab to fab.
What should be the best paints for kitchen cabinets?
Paints with a satin, semi-gloss, or glossy finish are best for kitchen cabinets. These durable paints can repel moisture, dirt, oil, grime, and cooking fumes, making them easy to wipe and clean. Glossy paints are also less prone to scratching or chipping than their flat or matte counterparts.
But with increasingly improved formulations, there are now kitchen cabinet paints available in other finishes – yes, even flat or matte.
Glossy paints may produce a glamorous glass-like effect on your kitchen cabinets, but they are also challenging to work on regularly. The shinier the finish, the more difficult it is to apply. They also tend to have a more extended drying or curing time. That's why it's essential to use quality tools (brushes, rollers, or sprayers) and follow the proper techniques to avoid ugly spots and brush marks and yield professional-looking results.
Here are some of the best paint projects specifically designed for painting kitchen cabinets:
Sherwin-Williams Emerald Urethane Trim Enamel – Glossy paints for kitchen cabinets tend to be oil- or solvent-based. But this product, one of Sherwin-Williams' latest from their "Emerald" line of paints, is water-based. It can withstand wear and tear and require only a few coats — Sheens range from satin to gloss.
Ronseal One Coat Cupboard & Melamine Paint – If you need to update the look of your melamine or MDF kitchen cabinets, the Ronseal One Coat Cupboard & Melamine Paint should be the ideal product. As the name suggests, it requires only one coat to get a full, smooth, and consistent coverage. No need for a primer, too. If you don't mind the longer drying time between coats (12 to 24 hours), its VOC content, and its relatively strong smell, the Ronseal One Coat should serve you well. It is available in nine colors and different finishes (from satin to gloss).
PPG Glyptex Interior Alkyd – This enamel paint produces a highly durable finish with a porcelain-like appearance when applied to the surface. It can work on various surfaces: wood, metal, plaster, concrete, and masonry. It's essential to have the surface cleaned and primed before using this paint. It is available in satin, semi-gloss, and glossy.
B&Q GoodHome Durable Matt Cabinet & Wardrobe Paint – You don't usually find the words "flat" and "durable" together when looking for paints. But B&Q GoodHome Durable Matt Cabinet & Wardrobe Paint is one of the few flat paint ideas for kitchen cabinets. It is resistant to moisture, spillages, and even household cleaners. Glossy cabinets create an uncomfortable glare when hit by light, so if you want to steer clear of that, B&Q GoodHome Durable Matt Cabinet & Wardrobe Paint should be your choice product.
Frenchic Furniture Paint the Lazy Range – If you're currently into the "shabby chic" style and want to apply the same aesthetic to your kitchen cabinets, Frenchic Furniture will give them a wonderful chalky finish. This self-priming paint provides excellent coverage with its smooth and creamy texture. Frenchic Furniture's thick consistency will leave you few chances of committing unsightly brush marks. As Frenchic Furniture is made from natural ingredients, it emits low toxins and VOCs, making it safe for people with particular health sensitivities.
If quality is your main concern, there is no need to ask, "Do I need a painter for my kitchen cabinets?" Leave the job to the pros from Custom Painting, Inc. Having been in the business since 1982, you can be sure that we have what it takes to transform your drab-looking kitchen cabinets by repainting and refinishing to give them a modern and updated look.