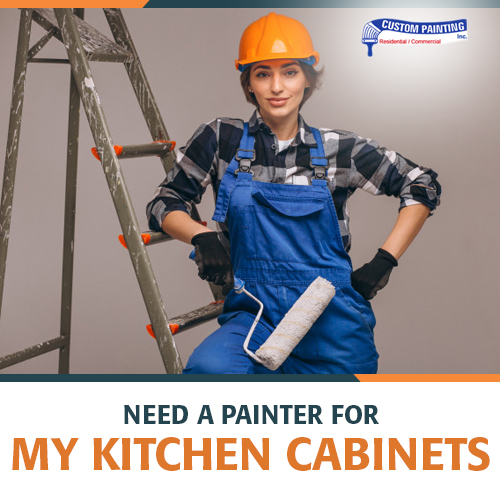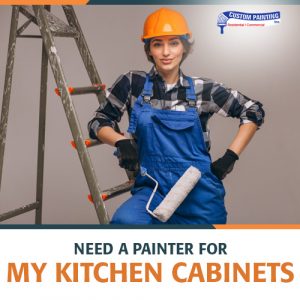 If you've asked yourself, "Do I need a painter for my kitchen cabinets?" Perhaps you wonder if that is something that any DIY painter could confidently do and get the results they want. Painting kitchen cabinets alone will make a significant difference to the look of your kitchen, even without repainting the walls.
But before you head out to the paint store, first assess your cabinets' condition. Check to see if you can restore them in the first place. Even the best-quality paint job can't revive cheap cabinets that have grown weakened with age. Thin veneers may peel off or delaminate, or the doors may fall off because of faulty hinges. In that case, you'd be better off replacing them with new cabinets.
Like walls, kitchen cabinets need to have a smooth surface which requires careful and patient cleaning and sanding.
Take away the contents. Then remove cabinet doors, drawer fronts, and the hardware. Clean the cabinets. Use a gentle grease remover and a damp sponge to wipe them clean. Let them completely dry before going to the next step.
Look for any imperfections, such as nicks, holes, gouges, or scratches. Use wood filler into the opening and spread it out using a putty knife. Following the wood filler label directions, let the application dry before proceeding to the next step.
Cabinets are usually painted with a smooth or glossy finish to repel oil, grease, and other kitchen stains. You have to roughen the surfaces by using medium sandpaper (such as 100- to 150-grit). Then apply primer to the cabinets and let it dry.
Once the primer has dried, sand the cabinets again. While this step is optional, you may have to do it if you're looking for a professional finish. By sanding the cabinets again after priming ensures no dust, grit, or hairs from the brushes are left behind.
Be sure to protect your surroundings just like in painting the walls before painting the cabinets. Cover the floors, countertops, and appliances with drop cloths before painting.
It's now time to paint the cabinets! First, though, wipe your cleaned, primed, and sanded cabinets with a damp rag to get rid of the dust and dirt before painting. Let the paint surface dry completely before applying paint. Let the paint dry.
Once the paint has dried, reinstall the doors, drawers, and hardware.
Latex or oil-based paints?
Painting cabinets sounds easy. However, there are other things that you have to consider before heading to the paint store.
Not sure if you should use oil or latex paints?
Latex paints have considerably and steadily improved over the last few decades. They even give off a finish that makes you convinced they are oil-based paints. Latex paints' formulations have improved so much that most painters have given up oil-based paints altogether. Since they're water-based, latex paints dry faster than oil-based paints. But the flip side of latex paints is that they don't do well at repelling moisture and stains. They are also challenging to clean.
Many pros still favor oil-based paints. After all, they provide a more resilient finish, which is ideal for high-traffic areas like the kitchen because they are easy to clean and scrub. They also give the surface a smooth and sleek appearance. Besides, the pros argue that latex paints take longer (usually up to three weeks) than oil-based paints to cure. However, the disadvantage of oil paints is that they are not good in masking stains. Oil paints also tend to fade faster than latex paints.
Either you choose latex or oil-based paints. Both of them provide a good finish. Make sure to choose paints with a semi-gloss or high-gloss finish for kitchen cabinets.
Should you go for spray paint?
The main advantage of spray paint is that it gives a smoother appearance – no ugly streaks from the brush strokes. However, spraying paint takes a bit more practice to get it right. Besides – believe it or not – using a paint sprayer is not economical at all. In fact, a paint sprayer uses (and wastes) a lot more paint than a brush or a roller. That's because only a fraction of the paint goes to the work surface. The rest of the paint particles turns into a fine mist going in other directions, not on the surface you're painting. This instance is called overspray. Depending on the spray setup, up to 75% of the paint can be lost due to overspray.
Unless you own a paint sprayer, you may have to rent one, which may drive up your budget.
For these reasons, you'd be better off using high-quality brushes instead. Invest in good-quality paintbrushes. Choose every type of brush you may need for the work. A three- to four-inch-wide square brush with straight ends are ideal for large, flat surfaces. A 2 ½- or 3-inch-wide angled brush will help you paint into the corners of the doors with molding and door frames. Choose a four- to six-inch foam roller to paint cabinet sides and their face frames.
You may be thinking, "Do I really need a painter for my kitchen cabinets?" It seems to be a relatively easy project. If you don't have time to paint or prefer a smooth, flawless finish, you'll want to hire a professional paint contractor to do the work. Hire and invest in a good painter so that your money is well spent.