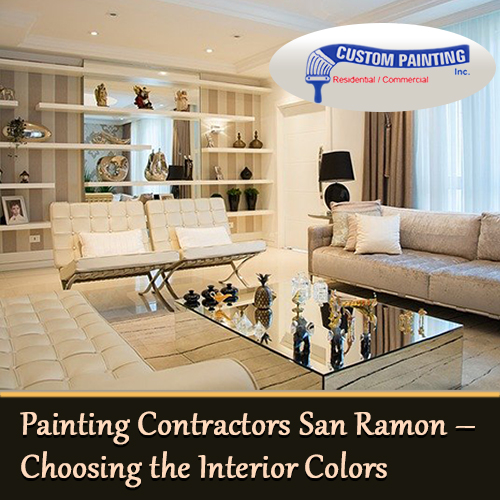 Painting contractors in San Ramon know the power of color. Who knew that only a simple dab of fresh paint could change the look of a space in an almost 360-degree way?
But choosing the right paint color is a different story, especially since there are hundreds of paint color choices. Often, homeowners will have no problem with choosing the right furniture pieces and home accessories. But they become frozen by fear when it comes to choosing a color for their walls.
We cannot blame these homeowners. Change can be a scary thing, and painting even just one wall – and not even the entire room yet – of a different color is a lot of change. Paint covers a lot of square footage. It's also costly and time-consuming to repaint. These are some reasons why people are afraid of choosing colors and getting it all wrong.
But choosing paint colors doesn't have to be scary and stressful. Consider the following tips for successfully selecting the right paint colors for your interior space.
1) Start with the colors you love
Probably the easiest way to select the best interior paint colors is to choose the color you love. Since your home is your space, you may want its look and style to reflect your personality and aesthetic choices.
You are not bound by the traditional color schemes for a specific decorating style when you start with your preferred paint colors.
Start by using your favorite color as your base, and then work a color scheme around it. Your favorite colors can be the perfect inspiration for a new color palette for your space.
2) Consider the function and mood of the space
Every color, whether you are consciously aware of it or not, can impact mood and emotions. Consider the primary function and mood of each area of your home. Soft blues, grays, and greens are ideal for bedrooms or any space where a calm, quiet, and relaxing mood is important.
Warmer colors like reds, oranges, and yellows, inject a sense of energy into a space. If you need colors that can spur you into action, whet your appetite, or make you feel good and optimistic, colors from the warmer end of the spectrum will work best. Kitchens and any small spaces deprived of natural light will benefit the most from warm colors.
3) Consider the room's lighting
Speaking of natural light, you also have to consider that when choosing the right colors. As long as there's the right lighting, any color can work in any space.
Are you painting a small space? A rule of thumb is that bright colors work best in small areas to give an illusion of a bigger space – especially if those small spaces don't get natural light. However, if that small space receives plenty of natural light, you can try from a wide range of colors – including bold and vibrant ones.
Want a safe choice? Choose elegant light to medium grays. They have become popular color choices today because they can work well in both sun-bathed and sun-deprived spaces. Unlike whites that give off an icy and clinical atmosphere, grays take on a warmer tone, making any space look more welcoming.
4) Don't be afraid of bold colors
You'd automatically assume that using bold colors can make a small space dark or cramped. But it's not always the case. Even so, a bold color can create a focal point in a small room. An accent wall painted a darker shade can make it recede, thus making the entire space appear larger than it is.
It's all about balancing dark, bold colors with the lighter elements of your room (that also include furnishings) and the best use of lighting that can make small rooms appear bigger.
5) Steer clear of darker hues
Unless you're painting a bigger or smaller space that receives ample natural light, avoid darker colors and hues. They can make the space feel cramped, cave-like, and gloomy.
6) Don't disregard neutrals
Today's neutrals are anything but boring, with hundreds of hues and tones to choose from – from cool grays to warm terra-cotta. Neutrals are versatile because they can work for spaces of all sizes and work well with other colors, furnishings, and accessories. Neutrals in medium tones give smaller spaces style and substance without being too overwhelming.
If you think you'll sell your home in the future, you might want to paint the rooms with classic neutrals like beige and whites.
These tips will ensure the perfect colors that will work best for your interior spaces. But if you're still not sure what's best for your home, office, or any commercial space, experienced painting contractors in San Ramon are there to help you make the right choices when it comes to painting colors and finishes.